The neighbour's chickens continue to escape. We woke one morning to find a chicken strolling up and down our drive. Thankfully it decided to go home and trotted off back across the section, over the fence and into it's own yard.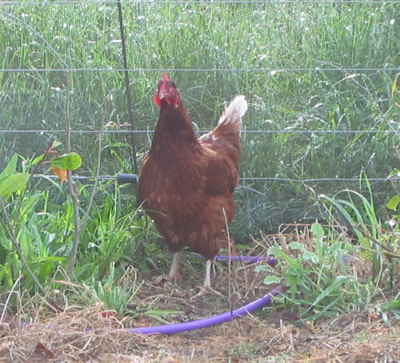 We have a deck outside the family room.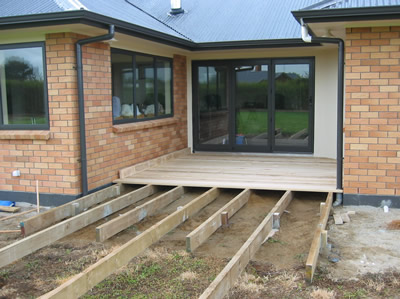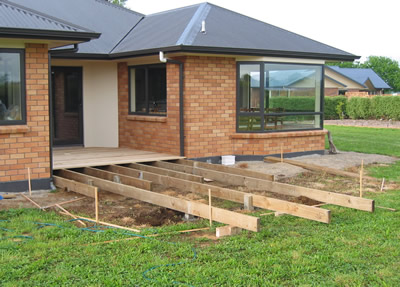 Our new outdoor furniture, seats 8 people comfortably and was made by a local firm, Trojan Furniture. They also did a wonderful job of building the deck for us.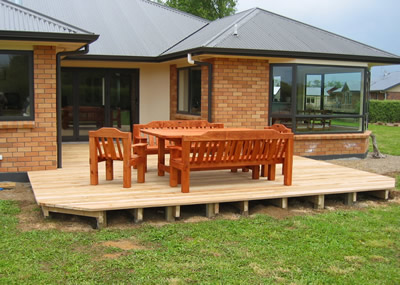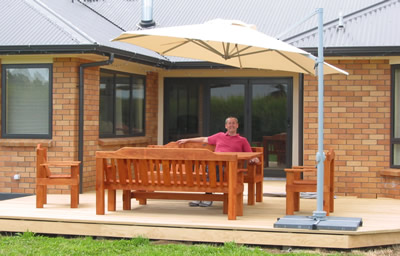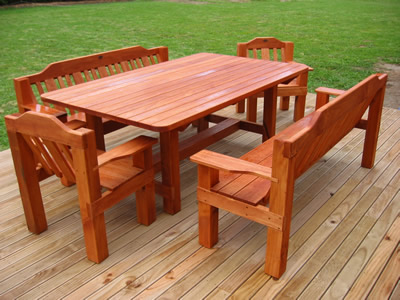 We had fun moving the hothouse to it's final position near the shadehouse. Peter put two large black trays under the legs at one end and we picked the other end up from inside and dragged it with the back end sliding on the trays. Anyone on the outside would have just seen the hothouse moving on it's own.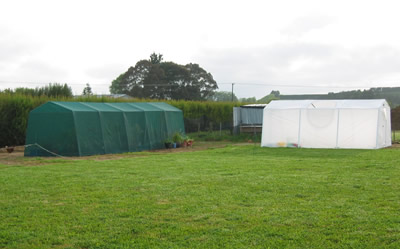 We have had some slabs laid at the front door to stop the sand getting into the house, and to make the front more welcoming.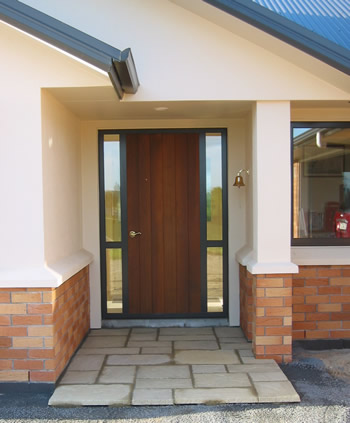 The last bit of fencing has been done. We've had double gates fitted and Peter now has to put wire under the bottom rail of all of the fencing to stop escaping dogs.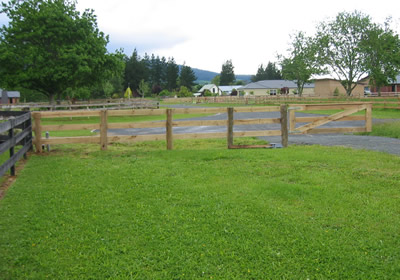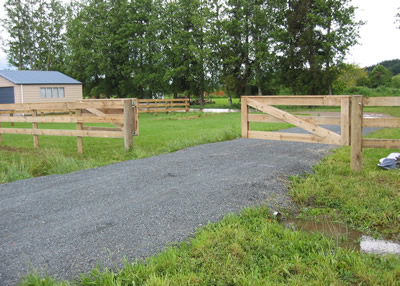 The hall we normally use for our bonsai meetings was double booked this month for an arts festival so we hosted the AGM at our place on a Sunday afternoon.
Since moving in we've met several of our new neighbours. To help us meet more we held a 'meet and greet' party one Saturday. Unfortunately the weather was against us and it was a bit wet. We managed to fit the BBQ and quite a few chairs in the garage and still had a very pleasant evening.
Peter has been on another course – this time in Auckland. He enjoyed the walk from the hotel to the training centre and also walked into the city centre on a couple of evenings. Somehow he managed to find a couple of pubs which brew their own beer (and very nice it was too).
We started our Christmas celebrations by going to see a friend, Jean, singing Christmas Carols and songs in the Cantando Choir at the Hamilton Gardens pavillion last week-end, followed by a meal at their place – an excellent day!
On Dec 2nd (not strictly November we know!) we had our house warming. We started with afternoon tea and carried on until evening with a BBQ. Lots of friends from both our work places came to help us celebrate moving into our lovely new home – some came for afternoon tea, some for the BBQ and some stayed for the whole all day. Thankfully the weather was almost perfect apart from some occasional strong gusts of wind which managed to blow the gazebo away, and fling a plate (plastic) into Jean's face (don't worry – she's fine)!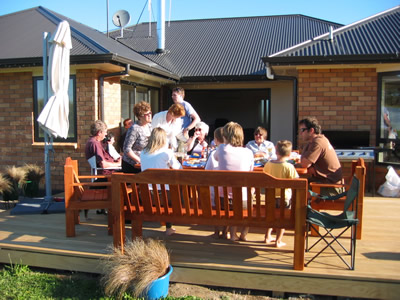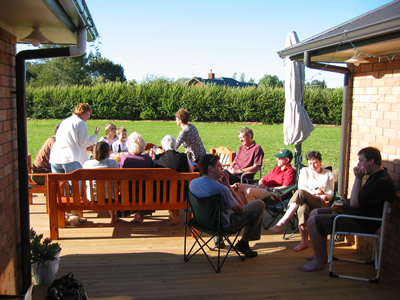 News from Home
Catherine has just begun her second year at Uni (doing teaching) and has managed to sprain her ankle and break her foot! She's now hobbling around in a plaster cast!
Mark's episode of 'Torchwood' (August page) was aired a couple of weeks ago which is very exciting for him, and us!
A letter from Lily (our next door neighbour from Wolverhampton) told us that our old house had been burgled! They threw a brick through the patio window to get in. We're very thankful that we don't live there anymore!