Following on from his course in Auckland Peter passed another Microsoft exam. He only has two more to do for his MCSE.The next one he's doing is in January, in Wellington.
Ann had an unwanted visitor – whilst she was sitting watching the tv a bird managed to fly down the chimney and get itself stuck in the flue between the chimney and the fire. A phone call to the fire manufacturer was singularly unhelpful – 'perhaps it'll fly back up the chimney' – which was highly unlikely as the birds wingspan was probably twice that of the diameter of the chimney! With the prospect of dismantling the fire to get it out she decided to wait and see if it could get out. Fortunately it managed to work it's way into the main part of the fire (2 days later) and Ann persuaded it to fly out of the bi-fold doors when she opened the front of the fire!
Some of the birds around here are a bit slow on the uptake, the house has been finished for several months now but they don't seem to remember. We've had a couple fly into the windows recently with a loud thump, leaving a squashed bird impression on the glass and a few feathers behind.
Peter had an early Christmas present from his brother David. He is now Laird Peter Mudie of Lochaber. There is also a Laird David Mudie of Lochaber and Laird John Mudie of Lochaber. These titles all come with the ownership of a piece of land in Scotland. Apparently the Mudie women are now supposed to greet their husbands with deference i.e. on formal occasions 'Laird Peter Mudie of Lochaber' or in private 'Laird Peter' or 'My Laird' – yeh right!!!!
Christmas is the time for works meals. Peter's boss took us to Judge Valley Vineyard, just outside Te Awamutu for a meal and entertainment.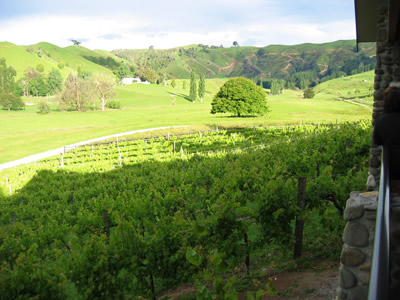 For the Pat Ave meal we went to the Glenview hotel. Ann and Jean did a small skit based on that well known story 'Prinderella and the sugly isters'
Ann and friends having an early morning breakfast (7.30am) before school one day in MacDonalds McCafe (makes a change from Ann being in the pub!)
With the latest arrival at Harvey's Hideaway, Peter has been having to remodel the garden by strengthening all of the fences, and fence off an area outside the back door to allow Jaz to run around whilst we are at work.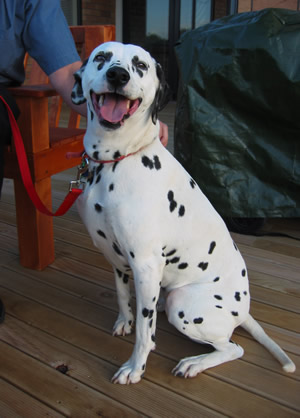 On Boxing day Jaz tried to jump the wire fence that Peter had been putting up, unfortunately she didn't quite make it and although she seemed OK at the time, the next day she was very quiet and shaky so down to the vets we went. Two visits, two injections and a weeks worth of anti inflammatory tablets for a bruised sternum and torn ligaments in her right shoulder. Of course she's had lots of extra pampering since and now she's much more her usual bouncy self!
Peter has finished the fencing and it's now too high for Jaz to even think about jumping over!
We decided to have a real Christmas tree this year for the first time ever. We went to a local farm and picked out our tree and put it up in the dining area. We chose a cheap tree ($15) which had had no pruning or cutting back to strengthen its branches – not knowing how it would be in the house or how the dogs would react to it.
Within days the delicate sound of tinkling glass was clearly heard as the ornaments started to fall off the drooping branches one by one! Next year we may invest in a more expensive tree which will have had weight training and stamina sessions prior to being sold!
On the Saturday before Christmas two of our neighbours organised a street party. This was a great time to introduce Jaz to them. Of course as it's a rural village, Santa turned up on a lawnmower.
For Christmas Day Dianne, Noel and Sam came over for a barbie. The weather was a little damp but it didn't stop us. After a few growls Jaz and Sam got on really well. Ann even managed to ice a Christmas cake we'd been given.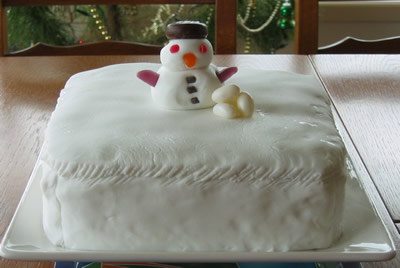 There is at least one comedian locally, sometimes when we get back we find that the General's ear have been turned up.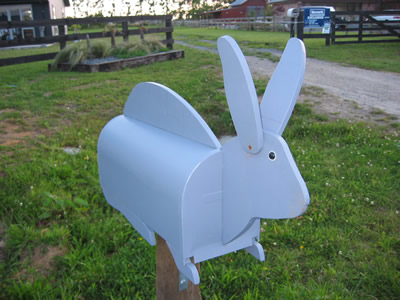 Jaz has been getting used to our cars, she is very happy when in the back of Ann's car or the Ute.
Say 'Hello' to Maxie, our second adopted dog. She's about 14 months old, a pedigree mongrel (with a bit of staff, terrier and we don't know what else). She's gorgeous too! Soppy and slobery!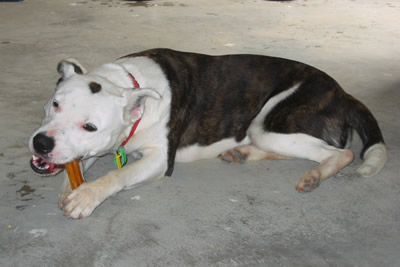 We've nicknamed the two Spotty Dog and Slobber Chops!
New Years Eve Celebrations
We celebrated the start of 2007 at Dianne, Noel and Sam's home once again. Jaz and Maxie made themselves right at home (which was a relief, especially for Maxie whom we'd only picked up three hours earlier from the SPCA)
In a last minute of frustration, Ann managed to delete all of her email contacts just before Christmas. If you normally get a message from Ann and they stop coming, please let her know and she will add you back into her contacts.
ann@lrd.co.nz
News from home
Peter's parents had a very enjoyable time at the RNPS Christmas meal. The Guest of Honour, Doug Ellis, spent quite a time chatting to Jean.
Ann's parents are still enjoying their Christmas break in the USA. They managed to get snowed in for three days just before Christmas day but Santa still got through with lots of gifts for eveyone.
Peter's niece, Mel, is thoroughly enjoying her job in the Police. She's lost 2 stone in weight and become much fitter – all because of the patrolling she has to do.
< November     January 2007 >