Meri Kirihimete, ngā mihi o te tau hou (Merry Christmas, happy new year),
The month began with Honey getting very excited at being fussed over by visitors at the local Persimmon Tree cafe. So excited that she managed to pull Ann over onto the concrete causing quite a few bruises, scratches, aches and pains. No walks for Ann for the following week. Honey, of course, was fine.
Our annual bonsai workshop weekend with Nobu was excellent as always. We had up to a dozen people attending both days with most staying for the Saturday evening BBQ.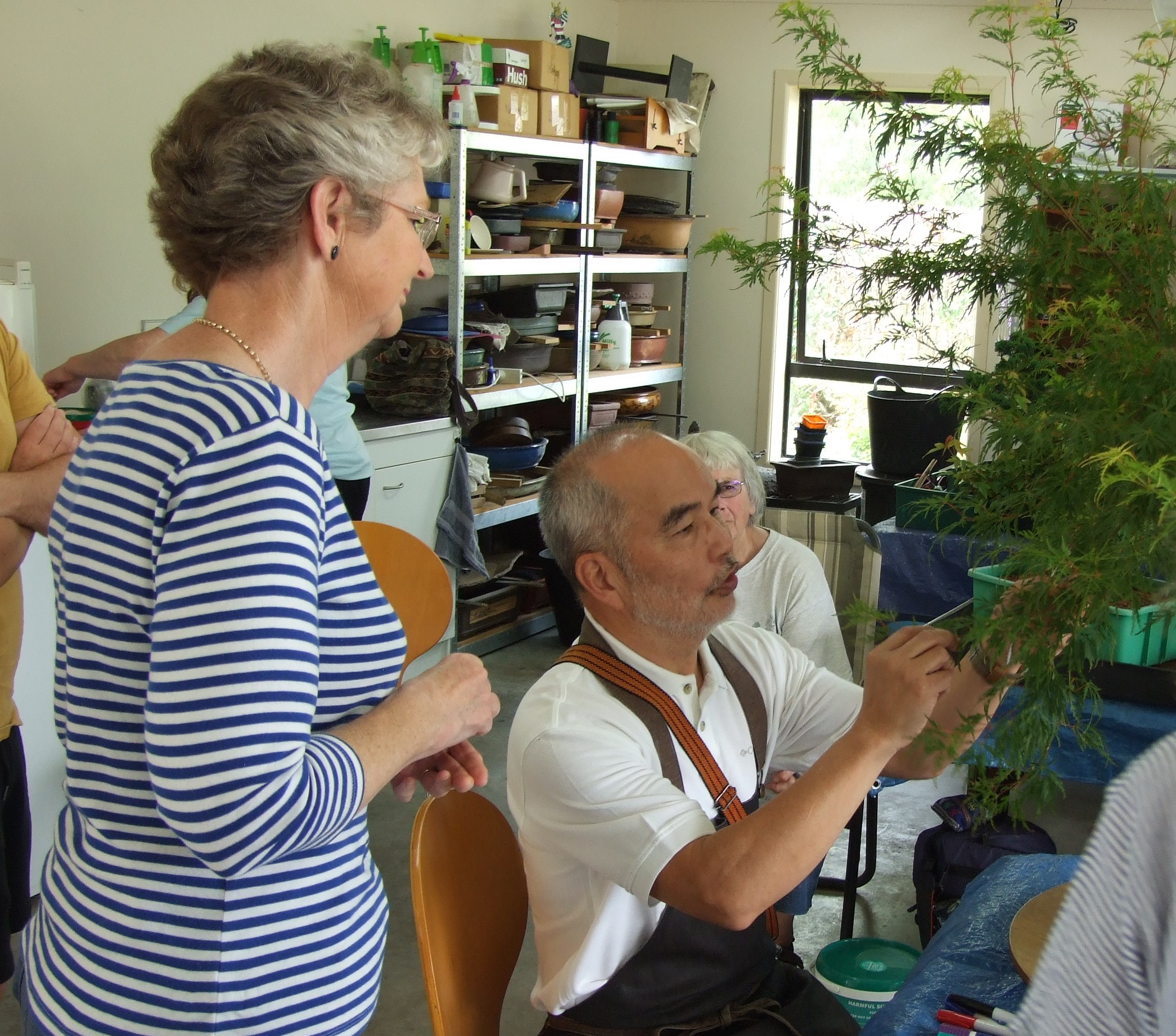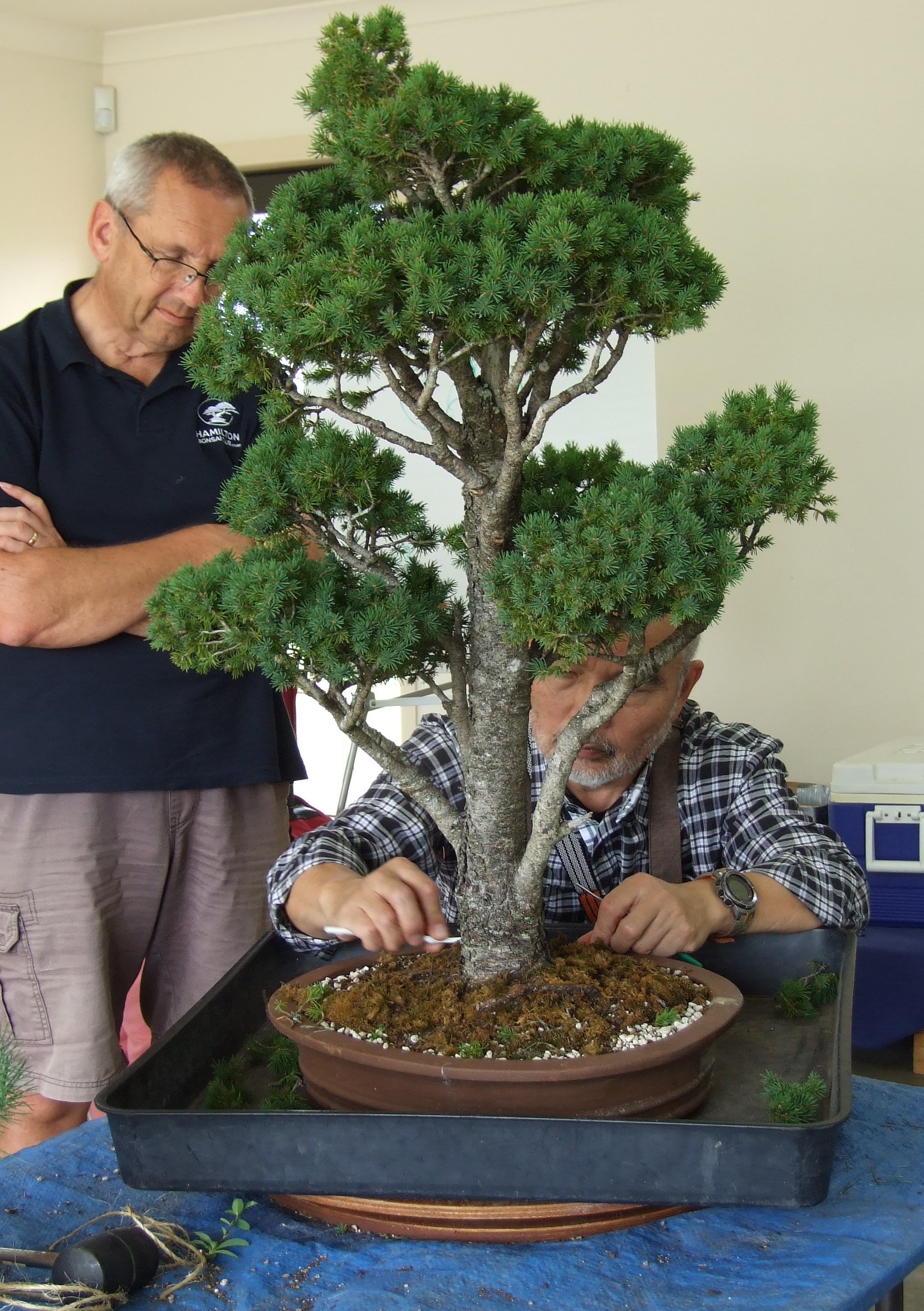 The heavy rain in November flooded our waste water treatment system and caused the fuses to trip. We didn't notice for several weeks as the alarm didn't sound. Luckily the service engineers were able to fix it the following day – not being able to flush the loo for a day or two wasn't very pleasant.
Ann finally finished work on Wednesday 18th – at the staff Christmas lunch.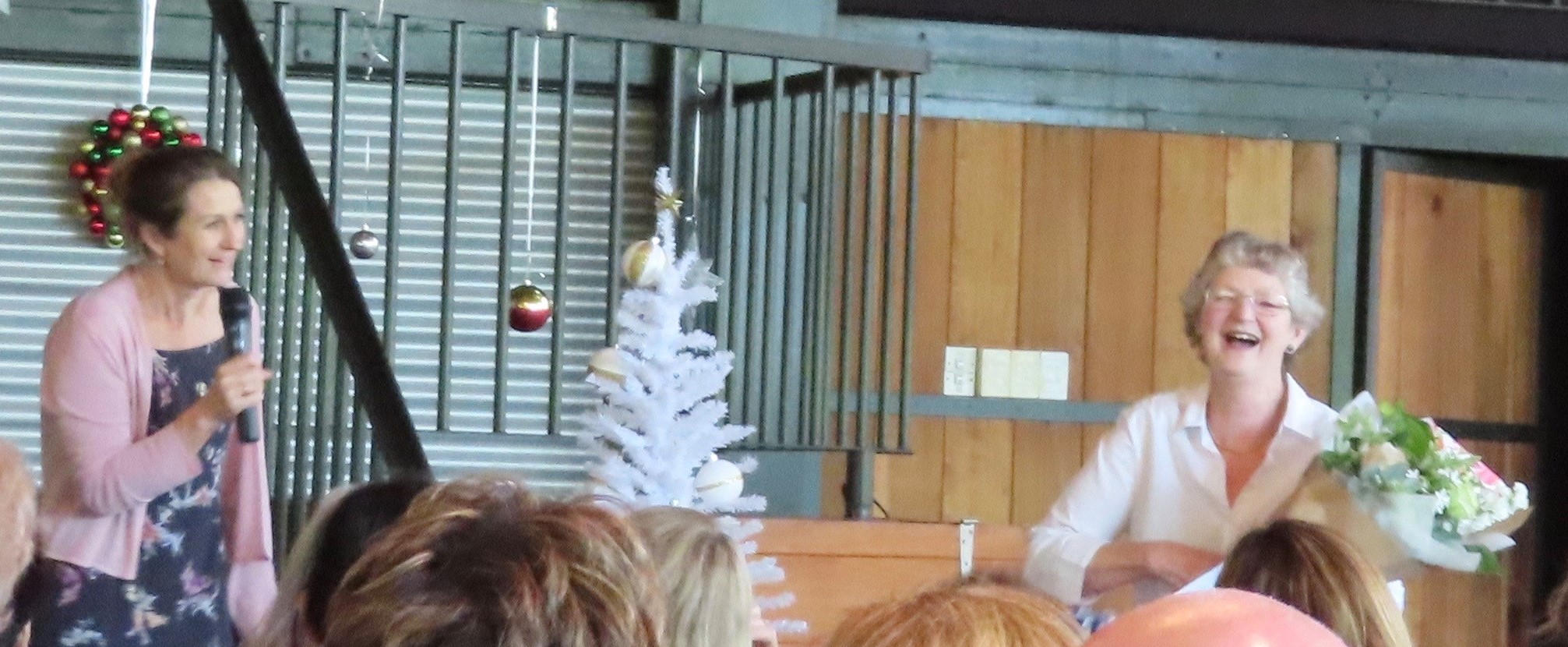 On the same day her car decided to challenge her bank balance. One of the rear electric sliding doors broke. It should hopefully be fixed by mid January.
One of Ann's school friends, Amanda, created this fabulous picture of her. It includes lots of personal details including Honey, bonsai, wine and so much more! We're going to hang it beside one that Peter was given many years ago when he used to dive regularly off the coast of Scotland.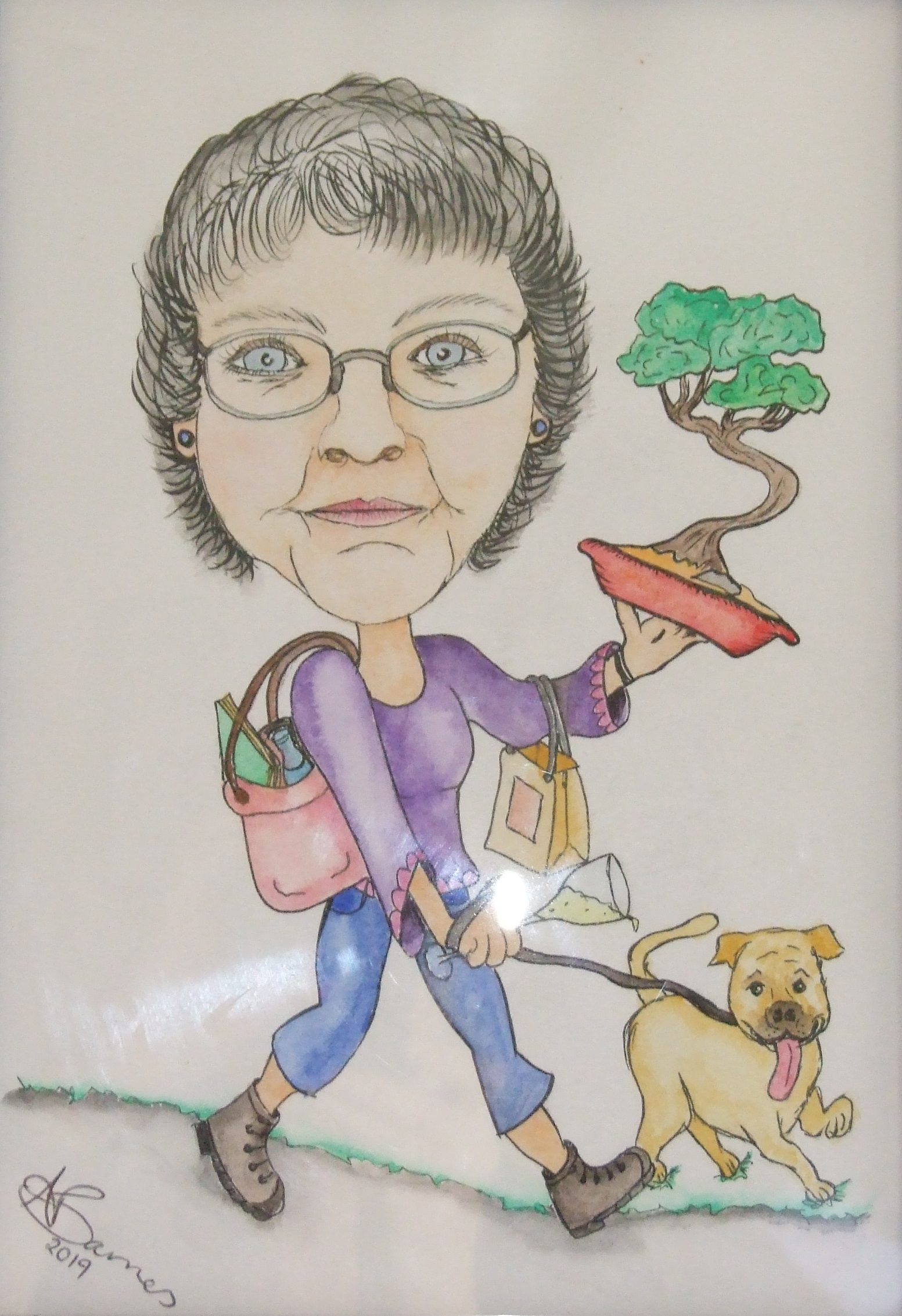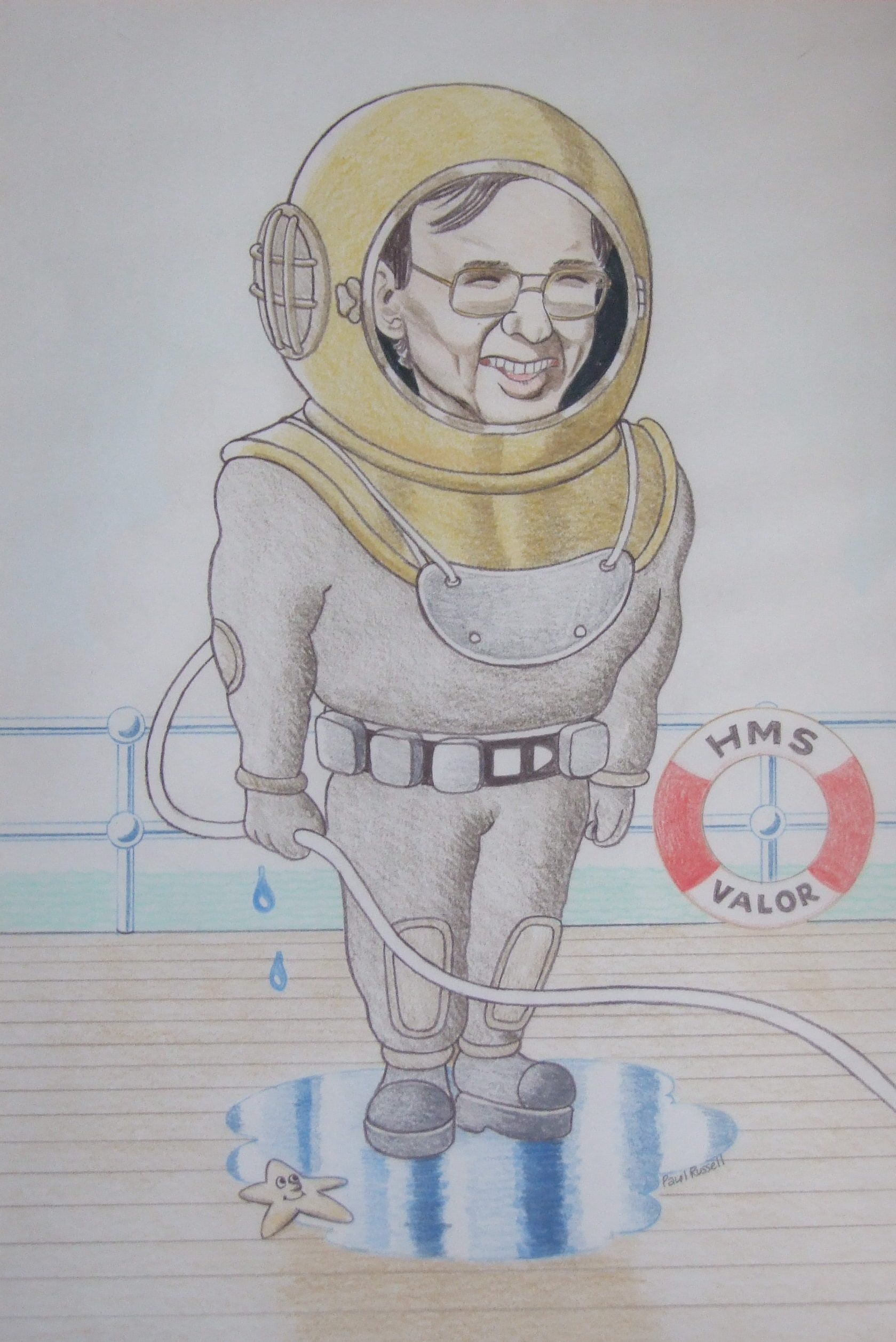 Peter finally got a date to finish work –  his last day will be the 24th January – it could have been a few days earlier but he's offered to cover annual leave for the other senior engineer.
We spent Christmas quietly with friends Jean and Tim – lunch and a fun board game. We did put all our Christmas lights on but since it's light until 9pm or later (and we're often in bed by 10pm) we don't get to see them very often.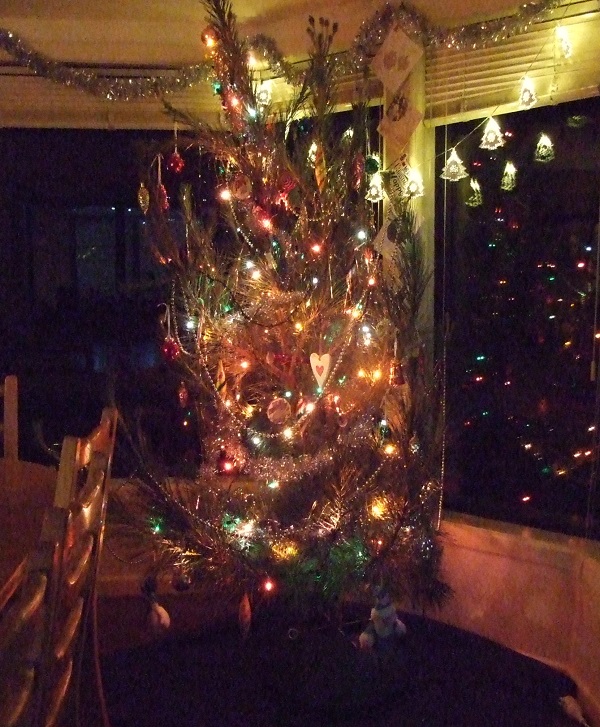 The weather has warmed up a lot. We're having to walk Honey earlier in the morning before it gets too hot for her and doing some of the less physical garden work in the afternoons.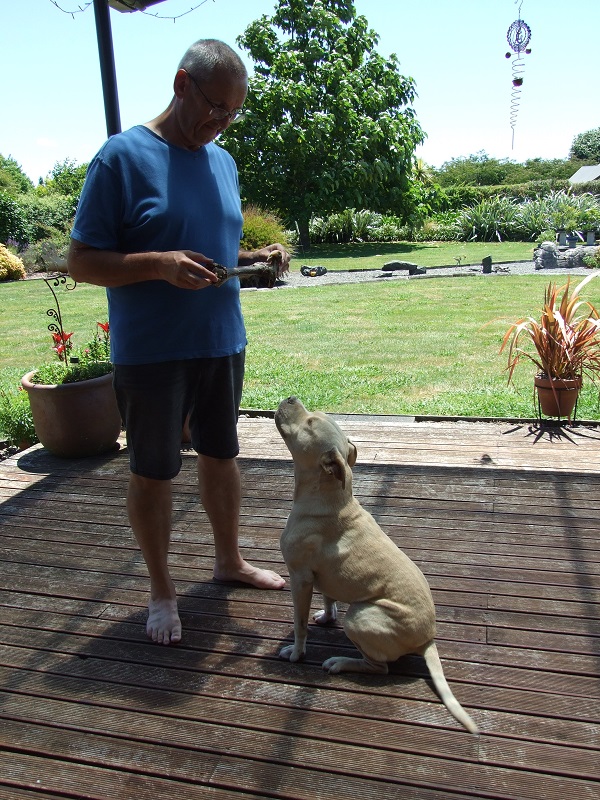 We gave Honey a large veal bone for Christmas. Big mistake which we won't be repeating. She loved it but …… a few hours later she threw up all over the grass, then the following morning when Peter took her for a walk she did 5 very constipated poos!
Peter and his wood chipper are slowly making headway with all the hedge prunings he needs to "munt". The chipped prunings are providing great mulches for round the base of the hedges and the paths around the raised veggie beds.