January has been hot and dry with the temperature in the high 20s / low 30s every day. It's rained a few times but not anywhere near enough to fill the water tanks, and some of our friends are thinking about ordering a tanker of water to keep them going. Ann even managed to get sunburned whilst sitting under our shade umbrella on the deck.
The veggie plots are starting to provide us with fresh produce. We've already had lettuce, courgettes, radishes, peas, beans, potatoes, chillies, tomatoes, cucumbers, capsicums and of course, lots and lots of strawberries.
We are moving the shed to the other side of the garden so Peter has been laying out an area for the trailer, the shed and the firewood.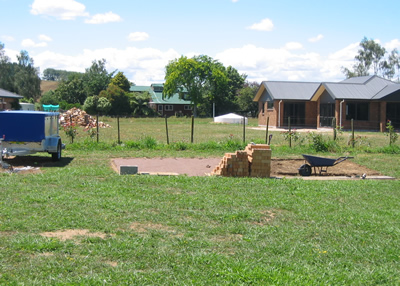 Ann has been clearing the edge of the paddock of weeds in readiness for planting more photinia red robin hedging – she's already spent two days on the weeds – not that you can tell much from the photo!
We've also just created two growing on beds for the bonsai in training and planted out pines, totara and kauri that we had growing on in pots.
Peter has also put in a couple of gateposts for a new gate into the dog pound. The next job is to replace the wire fence where Maxie tries to escape
The dogs started to play 'Hide and Seek" but we're not sure Jaz quite got the idea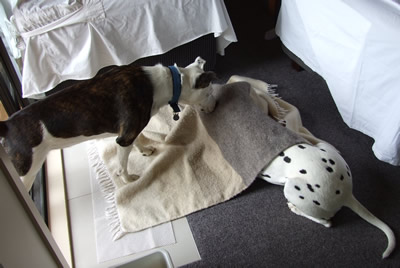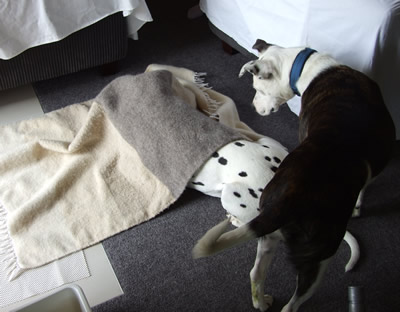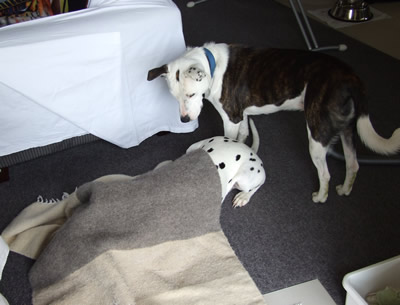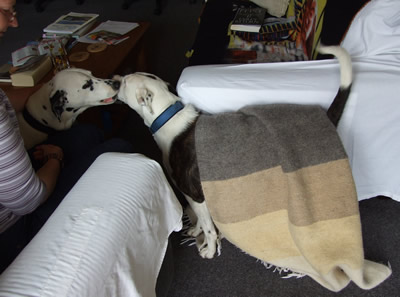 Jaz and Maxie have a new friend, Jake, who's been to visit a couple of times with his owner Karen. He's a cool dude as you can see!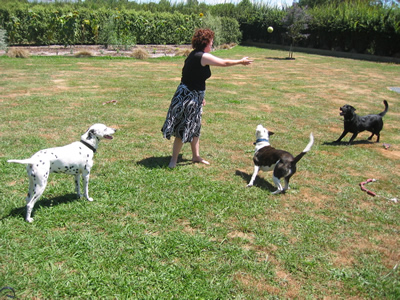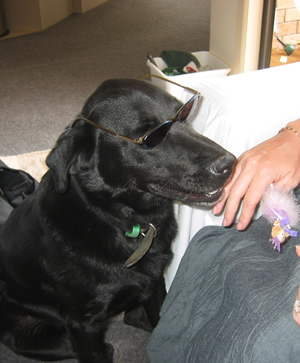 Relaxing after another hard day's work – playing ball, supervising Peter and Ann in the garden, playing ball, eating, playing ball, snoozing, playing ball – it's a hard life!
Both dogs have had their annual check up and boosters at the vets. Maxie is fine but Jaz has been incontinent over the last few weeks and the vet has linked it to her having been spayed so she's now on hormone replacement therapy, which appears to be working well (no more wet patches!) We've also discovered that Jaz has urolithiasis, a urinary tract disease. Luckily we've caught it early and so long as Jaz is fed a special diet she should be fine.
Peter has been fairly quiet at work and has passed another two exams – he is now a Citrix Certified Administrator. Despite Andrew saying he wanted Peter to do 1 exam per year, he has already asked Peter to do an IBM exam – this means another course in Wellington in March. Peter didn't fancy going to Sydney or Brisbane (actually he did but Ann didn't as it would have meant her cooking her own dinner and walking the doggies on her own for an extra couple of days).
Ann has been busy preparing to go back to work – after 6 and a half weeks on holiday it's not easy! She has a new class of six students, junior aged with very high needs.
The major news story this month was the death of Sir Edmund Hillary. There was a great deal of TV coverage on his life and the legacy of his charitable efforts in Nepal as well as the state funeral held in Auckland.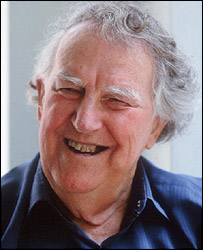 NEWS FROM HOME
Michael decided that he wanted to get his hair cut, so John and Allison took him up on the offer before he changed his mind!
<  December 2007     February  >