We have a number of routes we use when walking the dogs around the village and we try to take a different one most days. The route below is just one of our walks around the village.
Apart from 3 roads (Chestnut Lane, Aubin Close and Oak Lane) all the roads in the village (including some that only exist on paper) are named after Arctic explorers. Although the grass verges are wide many of the roads only have pavement on one side (usually with the street lamps on the other side).
At the gate we look West and see the mountain as we go along Chestnut Lane.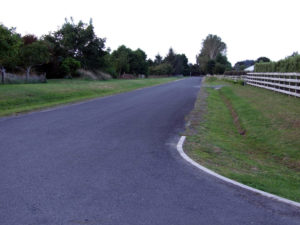 We then turn right into Collinson Street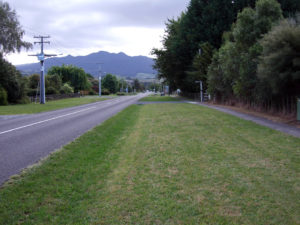 When we get to the end we turn left onto Crozier Street. Had we turned right we would have been going towards Te Awamutu.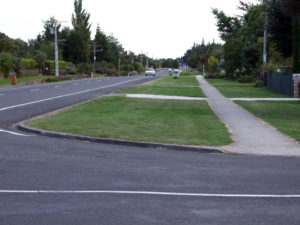 At the crossroads we turn left and go down McClure Street in the direction of Otorohanga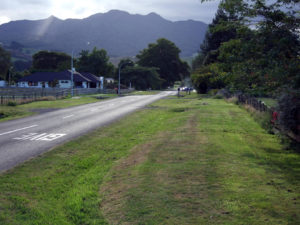 We take the first turning on the right and head along Bellot Street towards the mountain.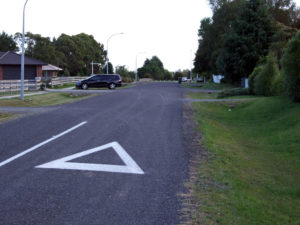 Next is a left turn onto the bottom part of Ross Street (a cul-de sac)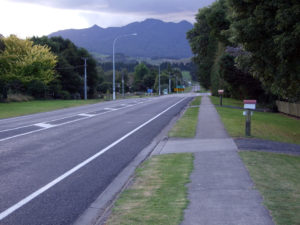 Turn right again along Baffin Street (we don't go past the art gallery, that's behind us)
The main road through the village turns right and we go up Franklin Street towards the heart of the village.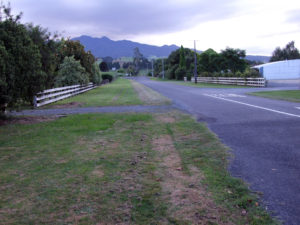 We make our last turn towards the mountain back onto Bellot Street……
past the Persimmon Tree Cafe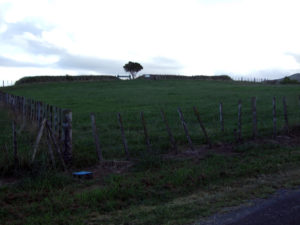 and head towards the Redoubt
This fortified earthwork was built in the late 1860's by the Armed Constabulary at the end of the Maori land wars to serve as a refuge for the local residents in times of unease.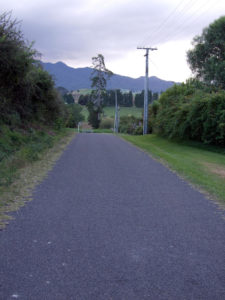 From the redoubt we follow Bellot street down to it's junction with Parry street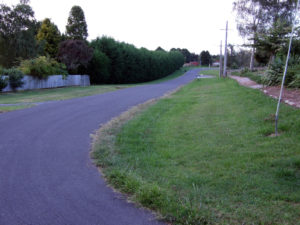 Turning onto Parry Street we continue down the gentle gradient to the lowest part of our walk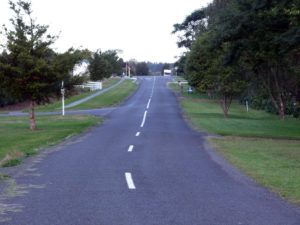 At the end of Parry Street we face the uphill walk along Crozier Street back to the level ground the village is built on. It is at this point that Ann keeps trying to get Honey to pull her up the slope
At the top of the rise we pass the shop and turn left onto Franklin Street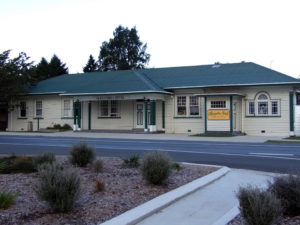 As we walk along Franklin Street we pass……
the Pub,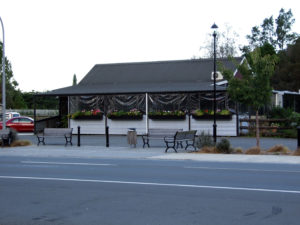 The Nest Cafe,
the Visitor Centre ,
Fire Station,
Craft shop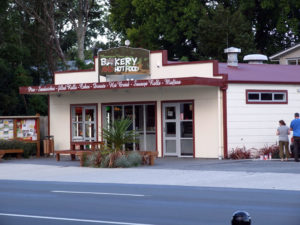 and Bakery. We usually stop here at the weekend and buy a treat – the apple slices are scrumptious.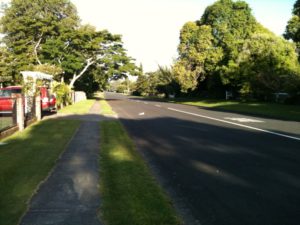 We start to head back home by turning onto Belcher Street and walk past …….
the school playing fields and swimming pool.
At the crossroads we turn back onto McClure Street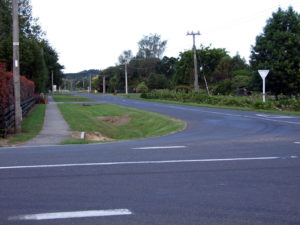 Then it's back onto Crozier Street,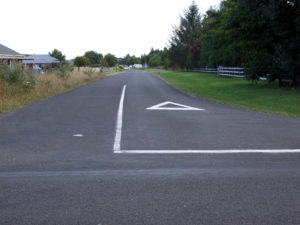 down Collinson Street and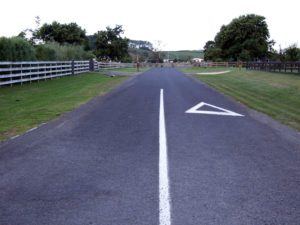 finally we drag the dogs back up Chestnut Lane to home. Once inside the gates the dogs either run off if they have the energy or trudge back up the drive after us.
That's our evening walk around the village, just under 4 ½ kilometres (just over 2 ¾ miles)