In 2005 we bought our piece of land in Pirongia. At the time, Lugs and Freeway were given the job of describing it – here is their report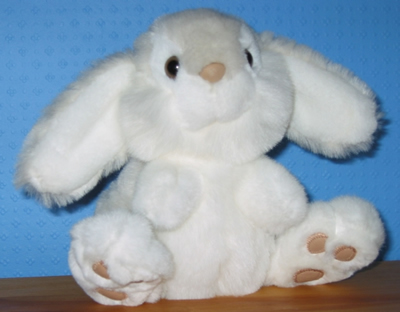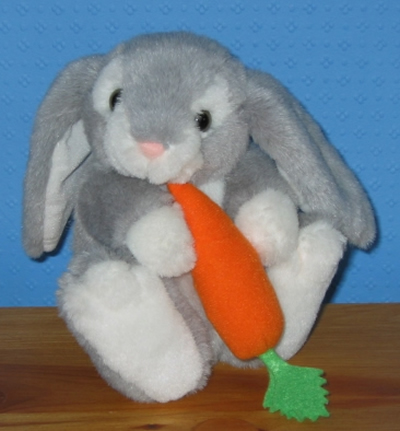 We are Lugs and Freeway, the smallest of the clan. We will tell you about the land we have been bought.
The section is slightly under 8000 sq m (2 acres), plenty of room for us to scamper around to our hearts content. There are views of Mount Pirongia to the West and Mount Kakepuku to the South. To give you some idea of the size, it is around 125m long and 55m wide – our old garden at Evandore Rabbit Sanctuary was 50m from the patio doors to the fence at the bottom of the garden and 10m wide. This means we will have a much larger playground for romping and gambolling in!
The land is almost flat with a very slight fall to the South. There is a row of mature Redwood, Alder and Birch trees on the Western side, screening us off from most of the local houses.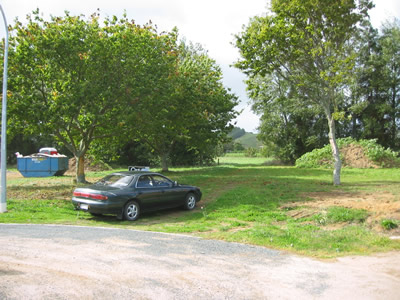 Ann's car at the entrance to the property with two mature chestnut trees on the left.
Everything you can see in the photo belongs to us, (and Ann & Peter too of course).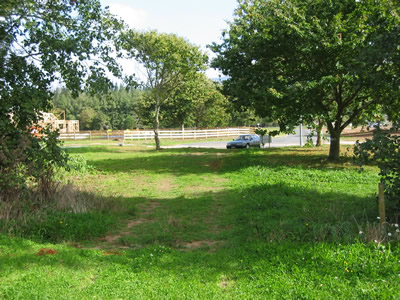 Looking back towards the road.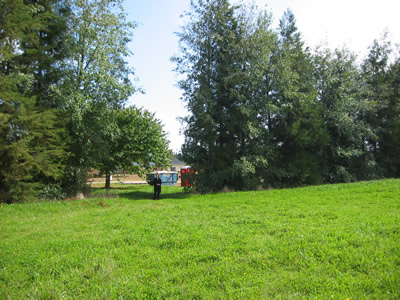 Ann standing in the gap in the trees near the entrance.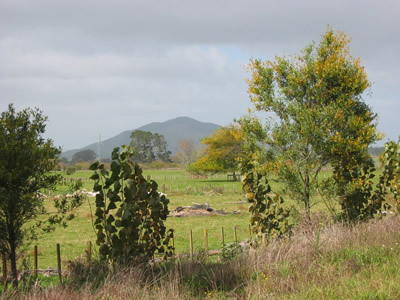 The view south towards Mount Kakepuku.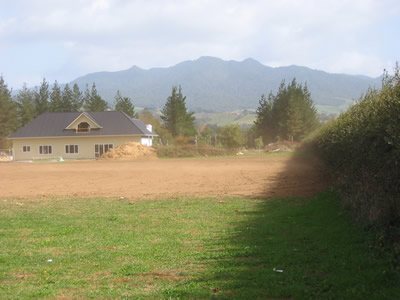 The view west towards Mount Pirongia. That house is almost the closest one to our house – so lots of space!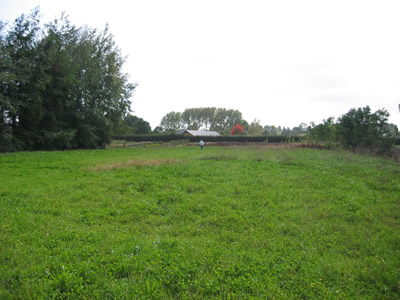 That's Peter heading towards the top of the property. The boundary is the hedge in the distance.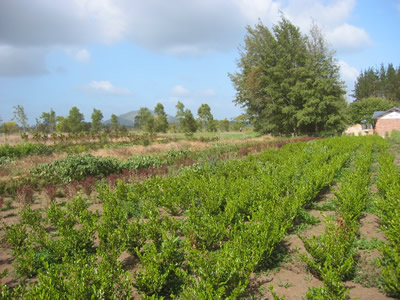 Spot Ann. She is standing at the bottom edge of the property just beside the line of trees.
There is plenty of wildlife in the surrounding area for us to make friends with. Ann thought she saw a possum running along the hedge when they were at the property in early May 2005, and our next door neighbour say that pheasants often strut around in the evening.
With nine of the trees being taken down to make way for the drive and the fence running across the section removed we have even more room to race around. The grass grows VERY quickly and Ann is having quite a job to keep on top of the mowing whilst Peter does more of the heavy work.
Ann mowing the grass – you can just see the stumps where the trees were taken down.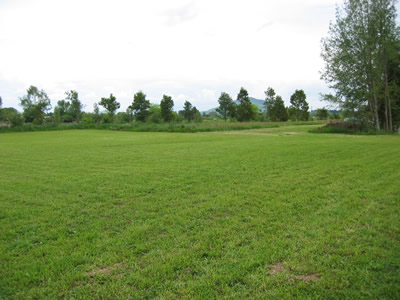 The fences have been removed giving us more room to romp.
Our neighbours have helped in taking up the stumps of a row of Poplar trees on the Eastern side of the property. This has given us a better view of Mount Kakepuku as well as giving us more play room.