Kia Ora
As we have continued the unpacking of boxes, some of which have been packed for 20 months, Ann has decided that the house isn't big enough. The final few jobs on the house are slowly being finished off by builders, although we have to chase them to get each job done.
We went to the Home and Garden Show in Hamilton looking for blinds, a shade umbrella, garden furniture and someone to lay the patio and drive. We were most disappointed as there was only one person selling blinds, one doing the shade umbrellas (very expensive) and one doing patios. We found our favourite garden furniture people and ordered our table and chairs, they are also going to do a deck for us. Fortunately we had seen a good shade umbrella at a furniture store a week before the show and managed to get one from them. We have also ordered a new coffee table, blanket box and chest of drawers for the bedroom. These are being made by a local firm, Kingwood Furniture.
The rabbits have made themselves at home in the bedroom.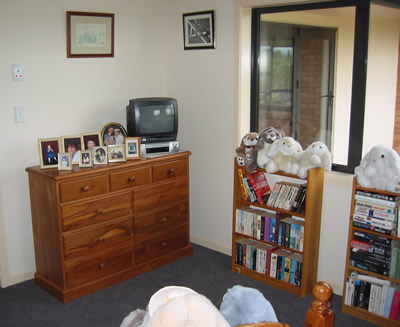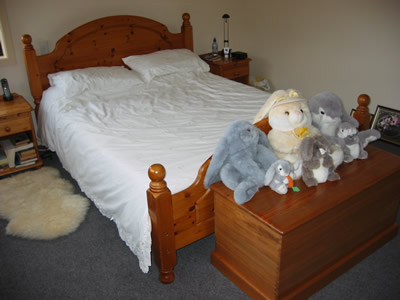 The Library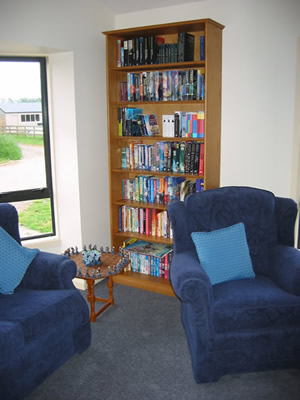 The Study (yet more books)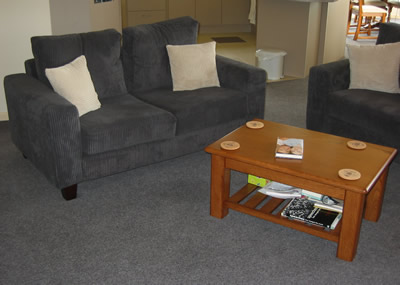 Many of our friends have expressed surprise at the number of books we have.
Peter has finished a second vege plot and the strawberries are ready for picking in the first one. We have tidied up the berberis hedge at the top of the garden. It took us two days to cut down the weeds and grass, remove over 30 privets (and a couple of hawthorns which Peter has potted up for bonsai) and put down a mulch of sawdust (two loads in the ute!!).
Ann had a spell when she thought about becoming a meat eater again – after the neighbours cows ate her Photinia 'Red Robin' hedging plants! Hopefully they left enough plant stem to grow back over the summer!
We've had more visitors, Dianne and Noel have given us a larch as a housewarming gift.
Hamilton Bonsai Club have held their annual show at Hamilton Gardens. We helped with the setup and put on a display of pots. We also did the judging of the trees on the Friday evening and had to give a talk on the trees on Sunday afternoon. Peter also did a demonstration Saturday afternoon.
News from home
Melanie (Peter's eldest niece) has joined West Midlands Police full time now, having been at Tally Ho! Training Centre for 5 weeks, then its back to her station where she will be based for 2 more weeks of paper work. Then out on the streets ready for the snow, rain, hail and bonfire night!!!
Darren is in Sweden for a week and since he's been gone Mel and the boys have all been ill, the cooker, hoover and shower all broke! She's considering banning him from leaving the country ever again!! Arron also ended up on crutches after a nasty tackle during a football match.
John and Allison sent us a few photos from the Fall Festival show. Michael and Alex both did the Performance Obstacle (Alex was in Under 8 and Michael was in 8 to 12 year old).
They both had fun and did really well considering it was their first time doing it and the alpacas first time as well, when you couple that with the alpacas being a bit ornery on the day (especially Michael's) they did fantastic. Michael got a 5th place ribbon and Alex got a 4th place ribbon.
Then Diane let Allison show Pride in the Full Fleece Halter class on the Sunday afternoon and they got a blue ribbon (1st). It was a good experience for all.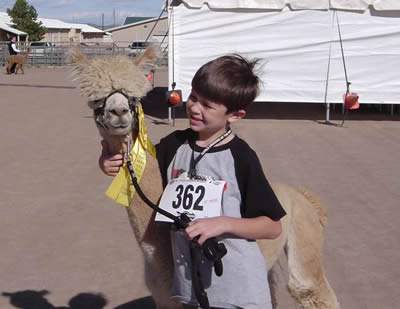 Next year they hope to have their own animals to show in the halter classes.
Alex and Michael also celebrated Halloween in style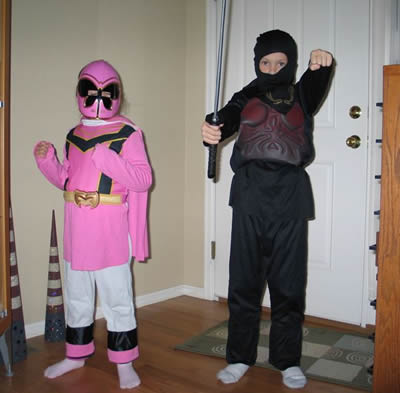 Duncan and Lyn are 'having fun' with their latest project, renovating a house attached to Duncan's workshop in Alvechurch. It appears to be a bigger job than they initially thought (although that's always the way with Duncan's projects). It currently is minus some roof, all floors, all wall covering, has no electric supply and no water, but it has some lovely beams that will remain exposed and a very nice alcove for Lyn's cooker.