Kia ora,
We've had a good fruit harvest this month. In fact it's been our best all round year yet (except for the cherries). Peter's been enjoying the pears, the girls their apples and we've picked about 25kg of grapes. Ann made some delicious grape Jelly to go with cheese and crackers and she found a method for freezing grapes so we've got stocks to keep us going over winter. She also managed to use several dozen apples to make some apple, sultana and cranberry chutney to go with her cheese sandwiches.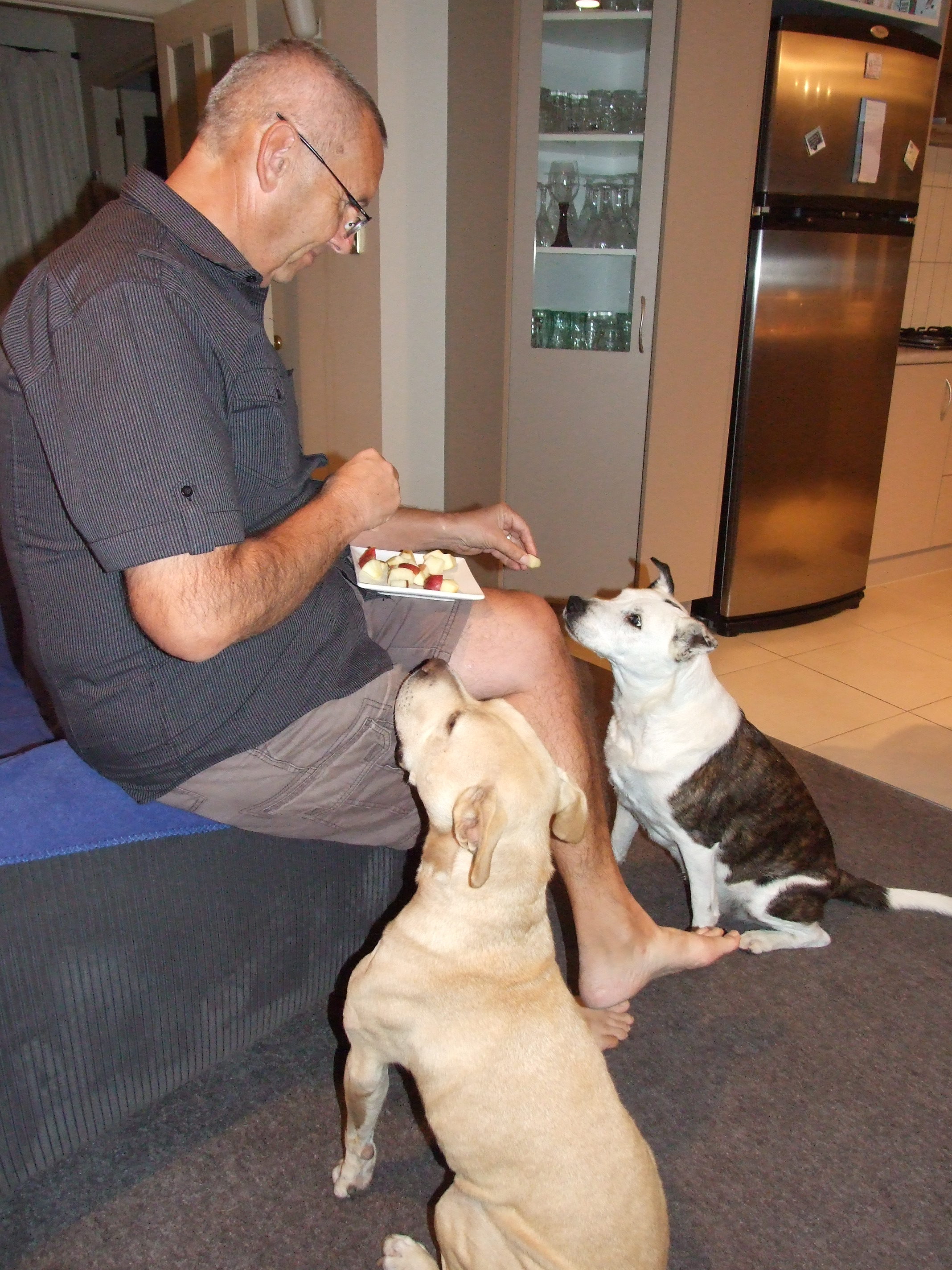 Ann wanted some more solar lights for the garden so she bought this chicken light. It's cute although not very bright in the dark (but since when have chickens been bright anyway). We've now named the rock "Chicken rock".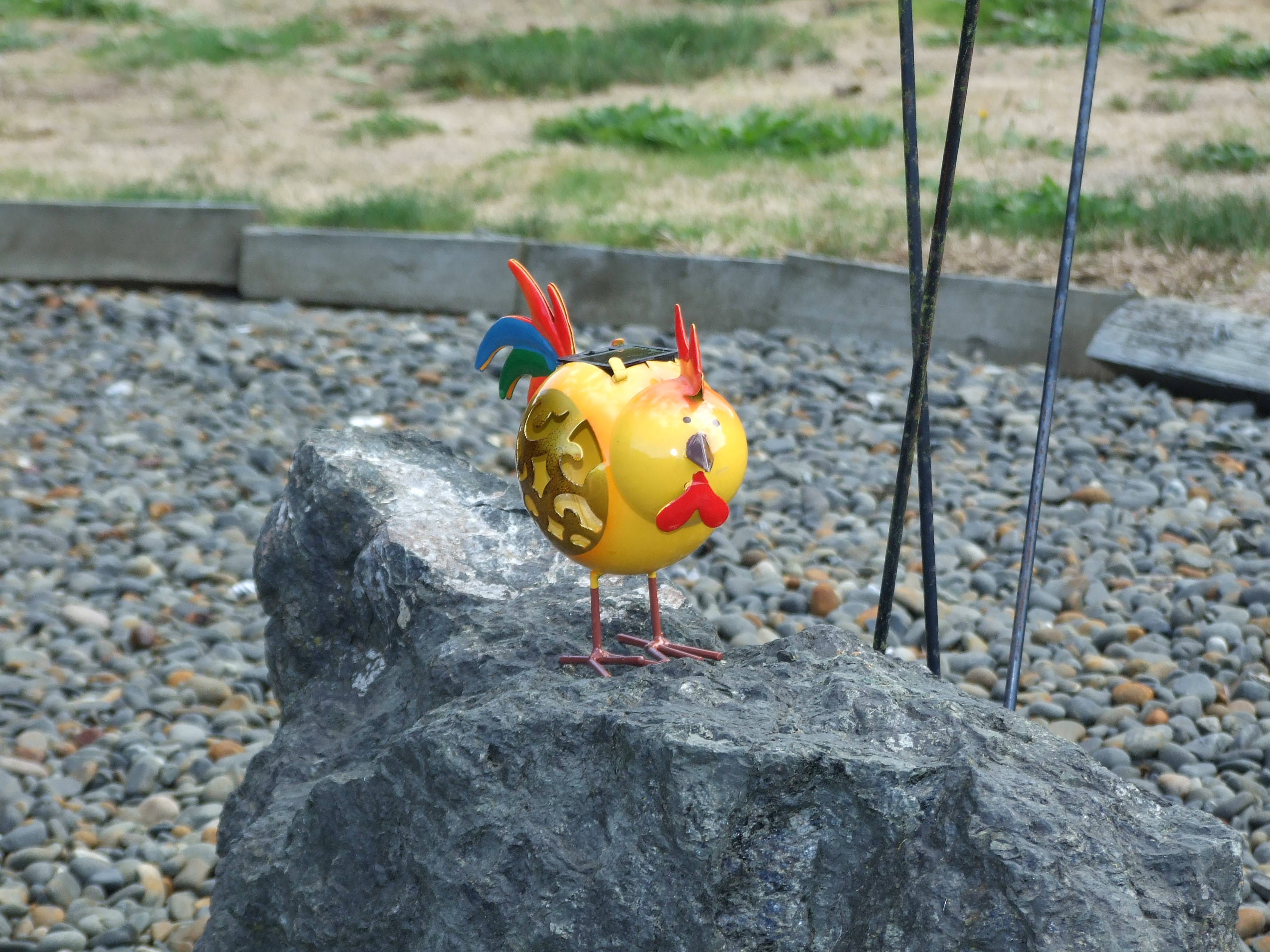 Summer time has ended. The mornings have been lighter so driving to work is nicer in the daylight but now we're walking the girls in the dark and we have to remember to put their little lights on their collars. Every winter when walking the girls with their lights on we get comments about how cute they look!
Ann finally got her vascular appointment for her ulcerated toe. However the surgeon wants to wait another three months to see if it will eventually heal on it's own (despite it being five months already).
The girls are doing well. Honey did manage to sprain one of her legs at the beginning of the month. She spent a few days limping and getting lots of sympathy from us – until we saw her chasing something (cat, bird or imaginary monster) around the garden at full speed!
It's been a busy month for bonsai. Firstly we had a full day workshop with Kathy Steyn (from South Africa) on saikei (landscape bonsai).  Peter observed for the day whilst Ann made a couple of landscapes. They look very immature at the moment but hopefully over the next year they'll improve.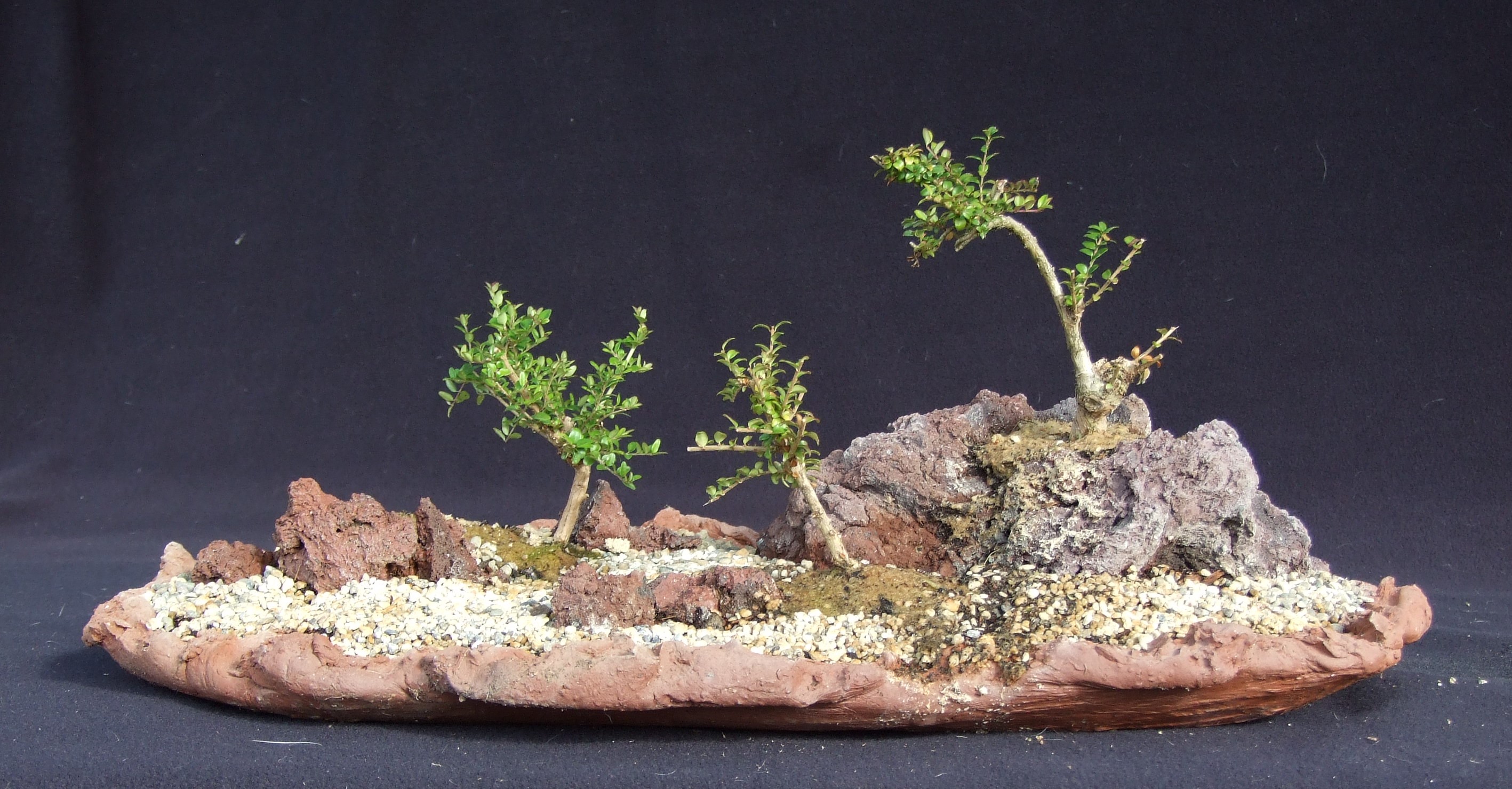 Our club meeting was also Kathy presenting a talk on her 'Bonsai Magic' garden centre in South Africa, followed by a critique of club members' trees. The following weekend we took photos of all our trees and did a load of weeding and tidying up. We also had a hard look at some of the trees and moved half a dozen (mostly Ann's) into the sales area.
The final Sunday of the month was a club crawl visiting four collections around the Waikato with us being the final visit of the day.
Shar Pei dogs have very sensitive, itchy skin and in the summer Honey needs to be bathed every week although as the weather cools down we can begin to stretch that out to two or three weekly sessions. She's so used to them now that, even though she dislikes having a bath, she will wander into the bathroom when Peter starts to get the room ready – bless her. Not even the offer of treats cheers her up.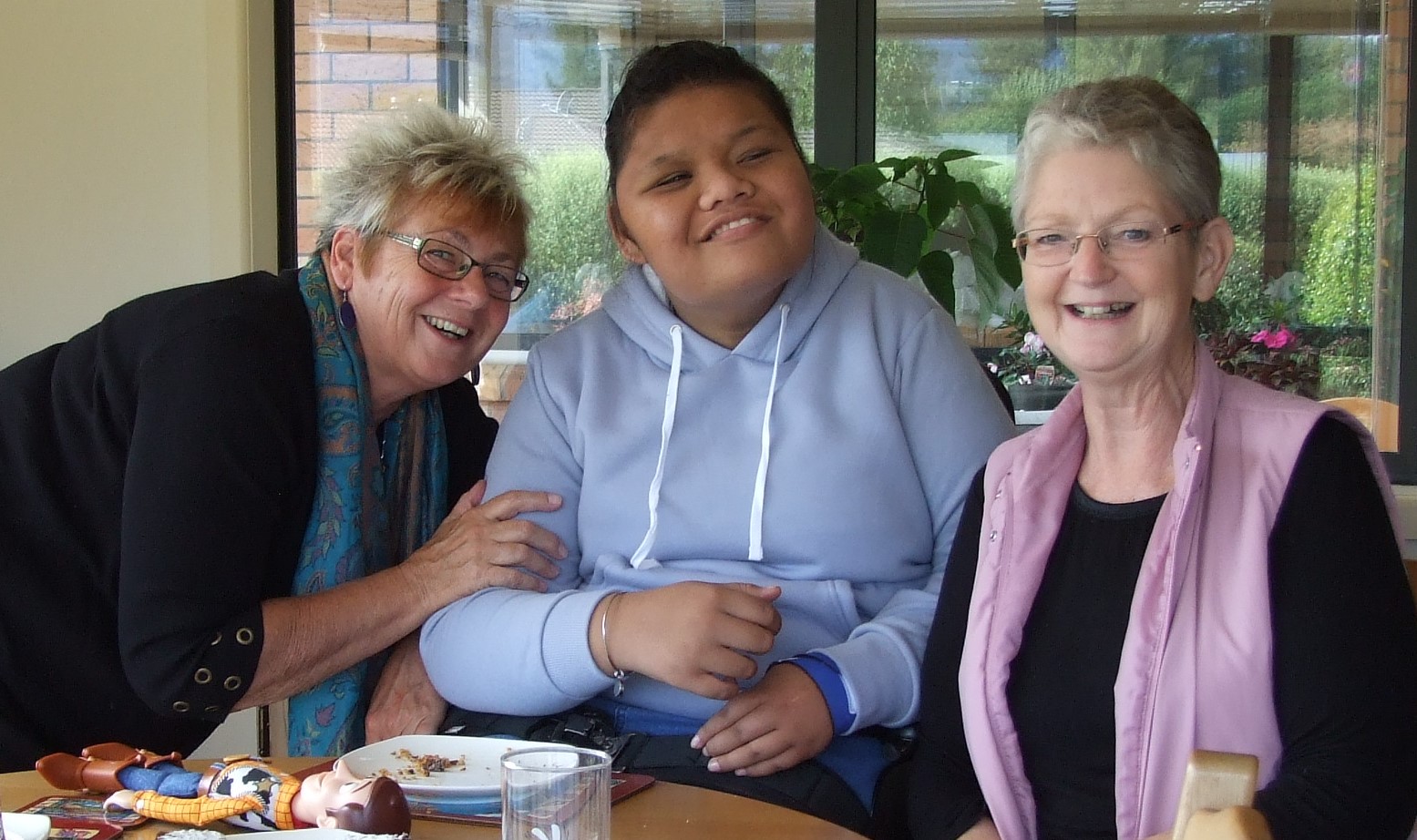 Azaria and Carolien visited. Azaria thinks that these holiday visits are great as she gets to eat chocolate brownies and cookies!
New Zealand commemorated ANZAC Day on 25th April. We attended the Pirongia dawn service. All over the country there are masses of these small white crosses with names on them – of the men who died in wars around the world. This photo is the display here in Pirongia. A lot of crosses for such a small village!

April was the Term 1 school holidays – Ann's been happy at home with the girls, bonsai and her books, and because Easter and ANZAC day are close together this year Peter's had two short working weeks.
With winter approaching Peter's been up onto the roof again to clean the birds nest out of the chimney. Despite the small gap being stuffed with chicken wire the sparrows managed to get quite a lot of material in there. It's now safe for Ann and the girls to have the fire on in the evenings.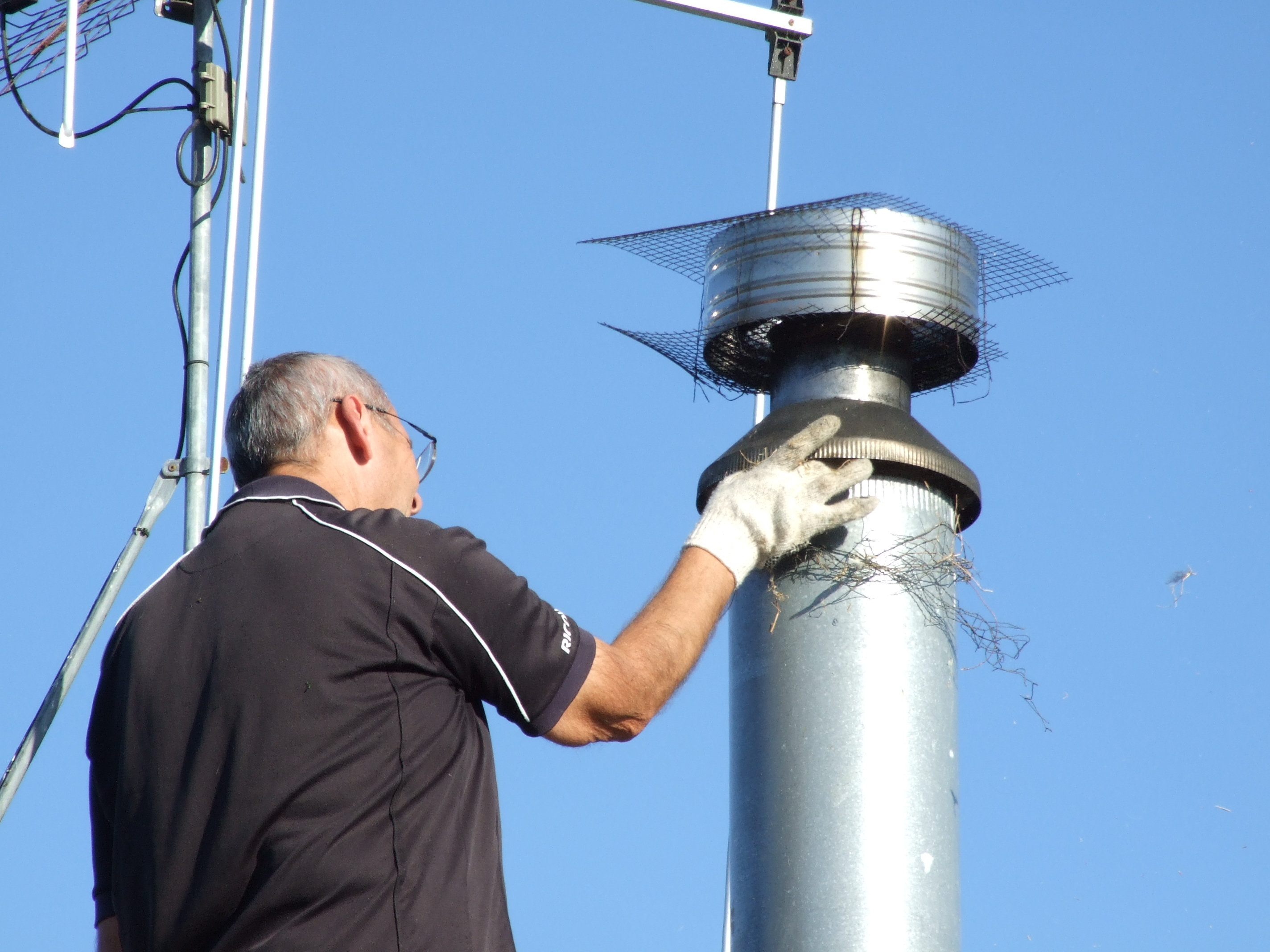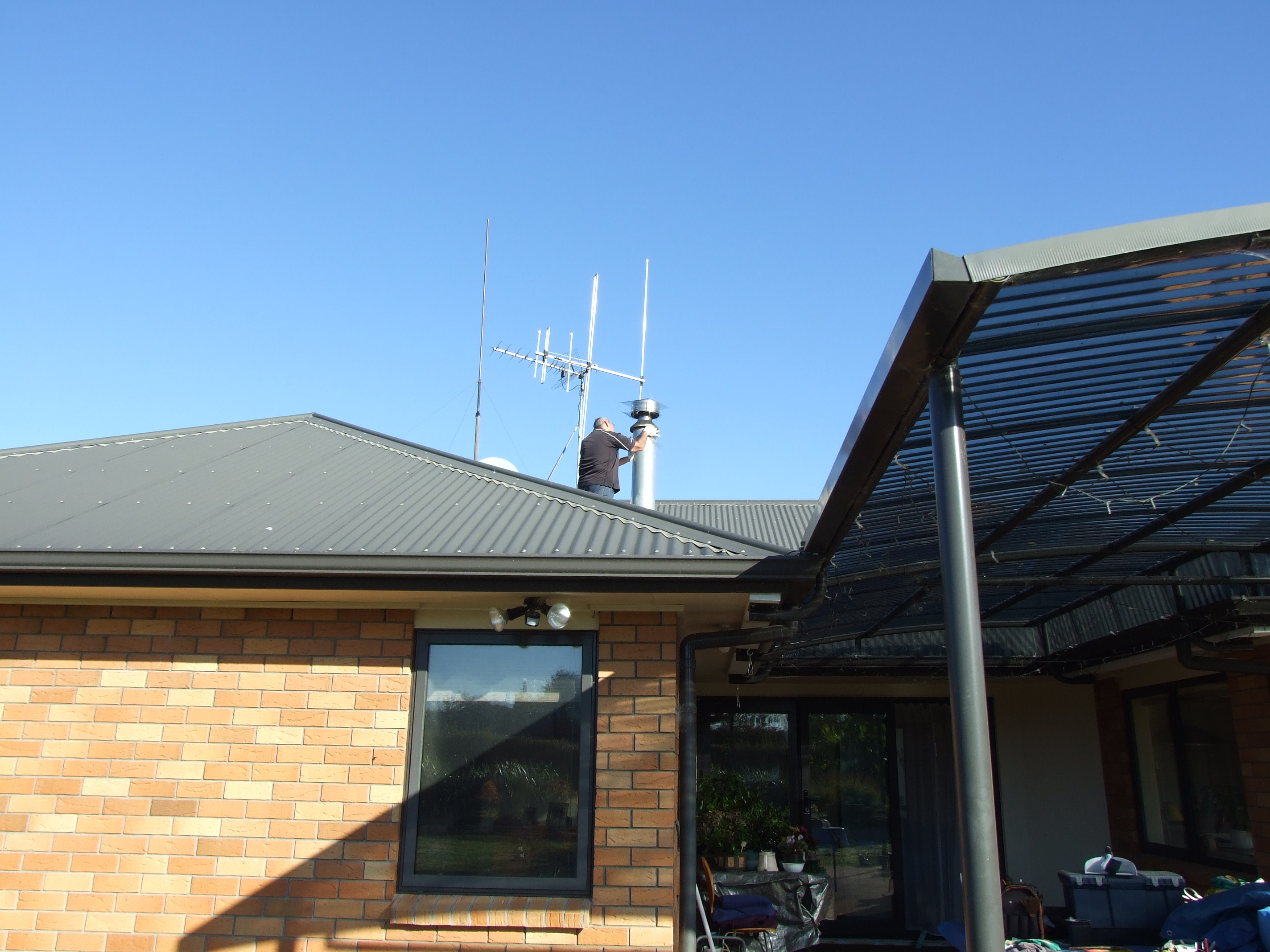 Ann's retirement countdown is going well.