Kia Ora
Well – after a couple of weeks running around the country saying goodbye to friends and family as well as four days of packing (finishing on Friday 7th with the arrival of our 40ft container), we arrived in Auckland on a sunny Wednesday morning. We picked up our hire car from the airport and drove to Hamilton through the rush hour, arriving at our motel just over two hours after we landed.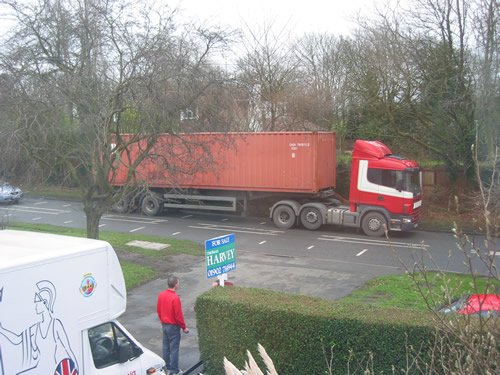 Our 'little' container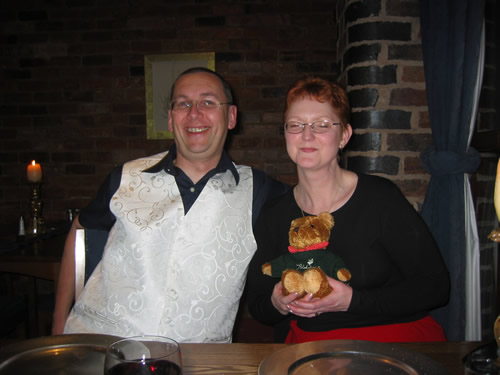 Farewell meal at Blakelands with Dave and Ann (and new family member Winnie)
Daytime temperatures have not dropped below 23 degrees and we have both got sunburned.
Ann has been to her new school a couple of times, the kids started back on Feb 1st although she had a 2 day training course on communication (PECS) on the Thursday and Friday before. Peter has been applying for IT jobs in and around Hamilton.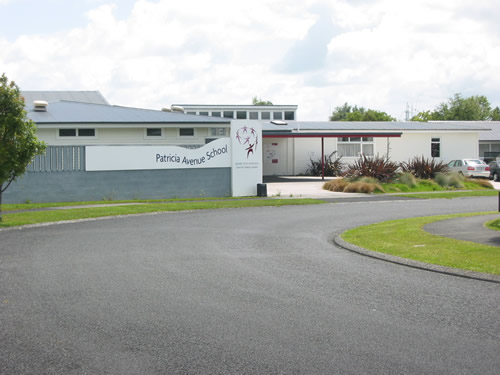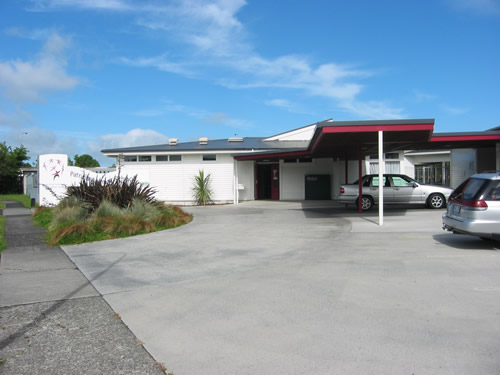 Hamilton is a pleasant green city with wide tree lined roads and little traffic. The Waikato River runs through the middle of the city with cool, peaceful riverside walks. Everywhere you go there are parks and restful green spaces. Most of the gardens here have large citrus or apple trees in them so a slice of lemon for your G & T is no problem.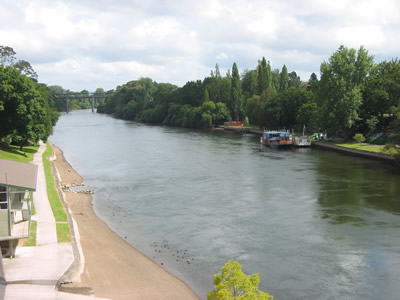 The floating restaurant M.V. Waipa Delta.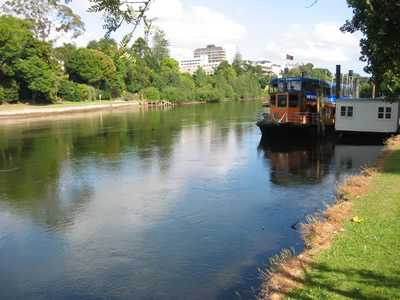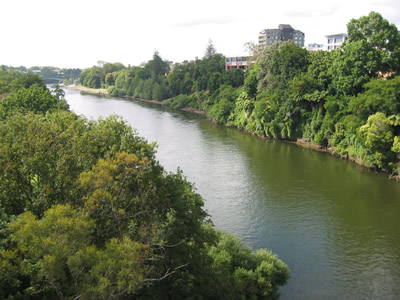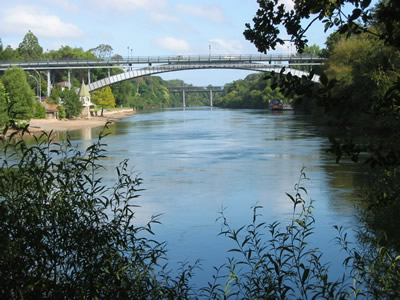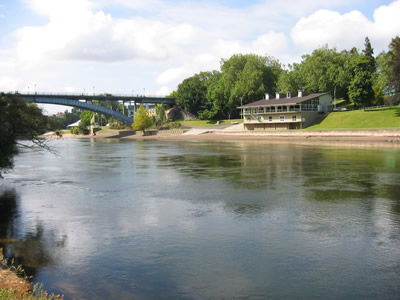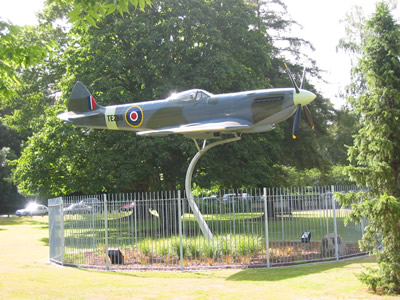 Memorial Park
We have been staying in a very nice motel in Hamilton East, the Aspen Manor. The owners, June and Joe, have made us feel welcome and have been very helpful with local knowledge.
As well as finding a place to live, we have been driving around looking at areas we might like to live in. We have been to several little towns 15 to 20 minutes from Hamilton where property seems a lot better value than that in the city.
Ann has bought what is considered here to be a small car, a Mitsubishi Emeraude (2.0 litre V6), and after looking at several properties (some in need of a little TLC), we have rented a new 3 bedroom bungalow in the north of the city (this means that some of our stuff will have to remain in boxes for the next 6 months as there won't be room to unpack everything but, hey, less dusting!)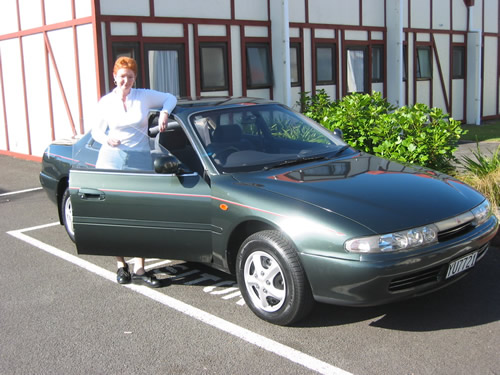 Ann and 'Butch'
We have had a ride out to the beach at Raglan, about 45 minutes away, and down to see the Kiwi's at Otorohanga.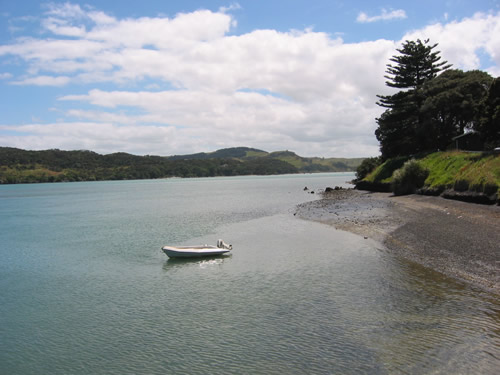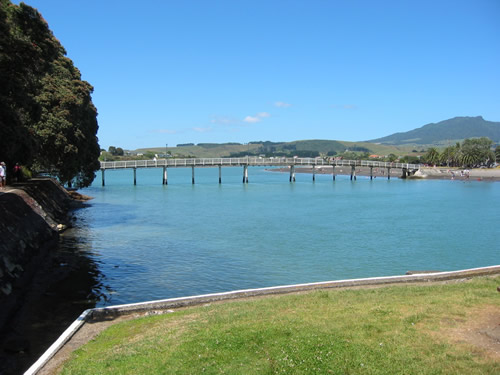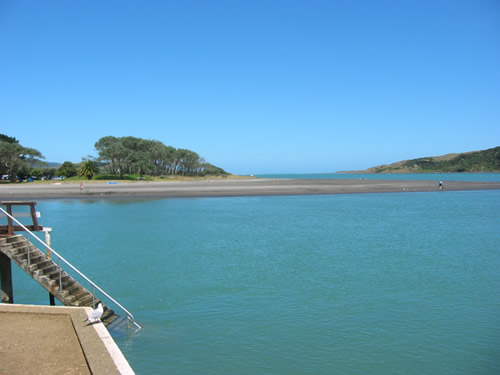 One of the beaches at Raglan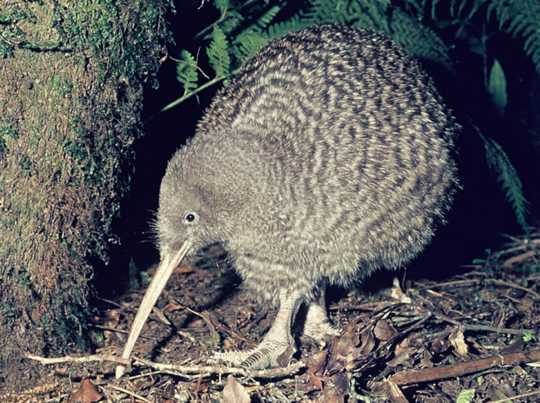 TV over here is abysmal, we have 12 channels to choose from and may manage to pick one programme per day to watch (and sometimes that's the news!)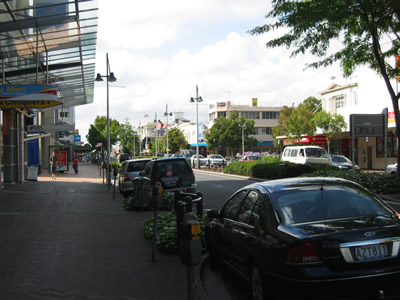 Hamilton city centre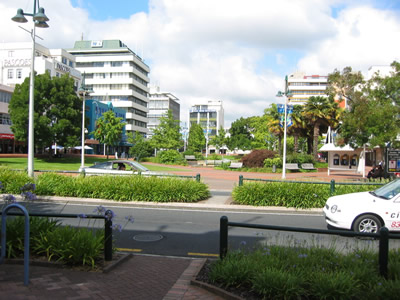 We're still trying to get our heads around some of the cultural and language differences. Lollies are sweets, ice bricks are lollies, torte is actually gateaux and a bottle of beer is a stubby. Everything gets done but in its own good time, people don't tend to have titles (that's very British we were told) and most people are out shopping etc in bare feet! The traffic lights are weird – they don't have an amber between red and green (for going) – so you're sat at the lights and they suddenly change from red to green! The water is much softer so Ann keeps using too much soap/shampoo etc everywhere!
Have you heard about the earthquakes – we are having up to half a dozen each day somewhere in NZ (mind you we haven't felt any yet!).
We have yet to meet the local Bonsai fraternity as they don't meet until Feb, but we saw a Bonsai shop in Raglan which had some immature but expensive young trees.
Well, that's it for now. We're off for a cold stubby in the local bar.