Kia Ora
September has to rate as one of the busiest and most chaotic months in the last few years for us. Still – we have finally moved into our new home – yippee! Mind you without the help of a couple of Ann's school friends it would never have happened! Having not completely unpacked from the emigration we totally underestimated just how many boxes and pieces of furniture we had, and how long it would take to move them. Our heartfelt thanks go to Chris and Magdel, and also to Pienaar, Gary, Armand and Hayden.
When we collected the keys to our new house, we also got this box of goodies as a welcoming present. Ann has already tried out the cafetiere (with a few minor mishaps).
2 loads in the 9 tonne truck, 8 trailer loads, 7 in the ute, 6 in Ann's car, two in Pienaar's van and three other carloads (not to mention the trips we'd already done in the evenings the previous week).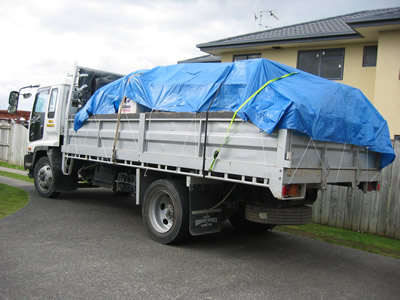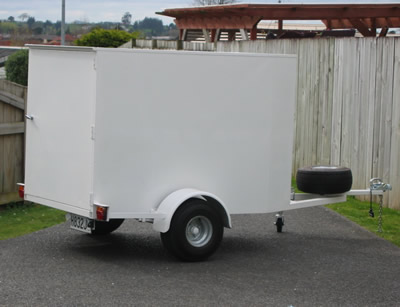 Magdel and Chris take time out from heaving boxes around to do a spot of measuring up
The General goes 'On Guard'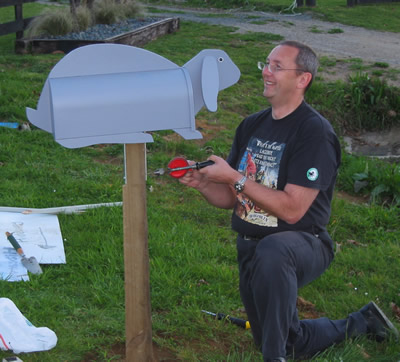 Peter got the mailbox up so we can now get our post – and we've already had mail from Ann & Dave, and Muriel & John.
Anyone want something to read?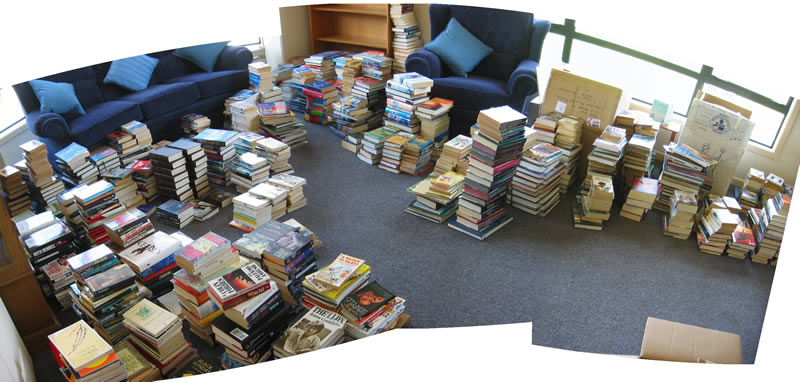 This isn't all our books either!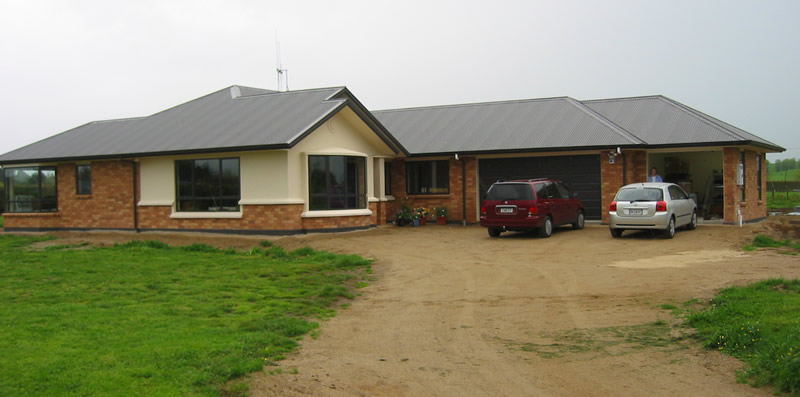 With the house finished we have started planting in the garden – 69 plants – although you can't see them – at the moment.
Our shade house is finally up. It's 9 metres long and 2.5 metres wide. In this Kiwi weather the shade house will protect our trees and plants from the hot sun and the occasional frosts we get in the Winter. Now all we have to do is get a couple of friends around to help us move the hothouse.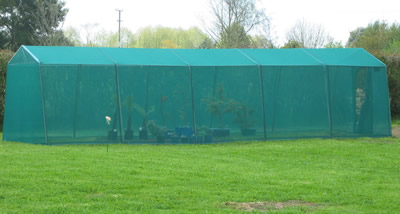 Just for a break from settling in, we had booked many months ago to go to the Auckland Bonsai Convention. This was two days of demonstrations, an exhibition and a dinner. Good fun, especially with the company we kept.
After the convention finished on the Sunday we went for a drive along Mission Bay with Jeff.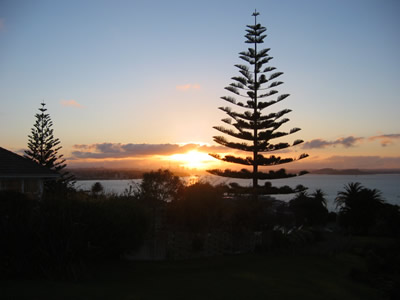 A couple of suspicious looking characters – wouldn't you say?
Sunset over Auckland
On the way back we collected a few more plants for the garden from a nursery at Rangiriri.
Our first guests arrived for a Chinese meal – cooked on our new gas hob. Maria and Tihema gave us a firework party and this wonderful painting which they did themselves.
When you come to visit we'll explain what each part of the picture represents.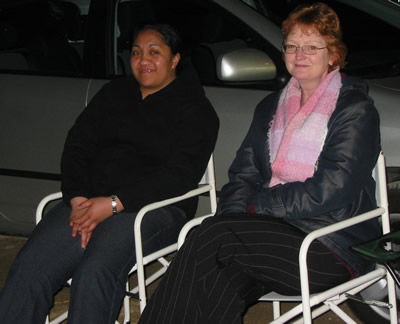 News from Home
Ann's dad, Mike, was photographed in the local paper queuing for tickets to a football match and her brother John managed to alter the heading to the photo! Awesome!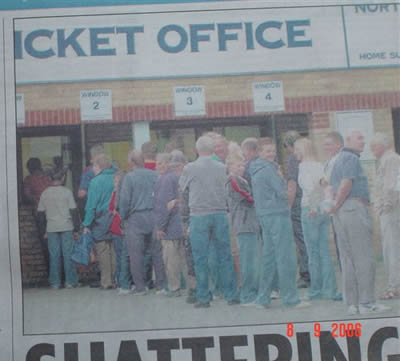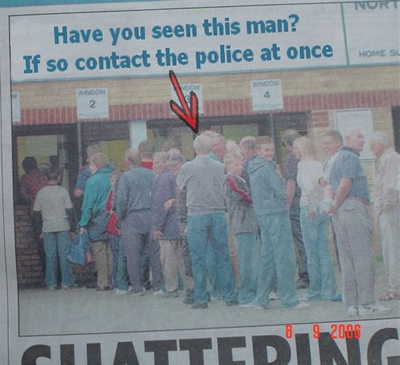 Congratulations to friends from the USA on the birth of their beautiful baby boy.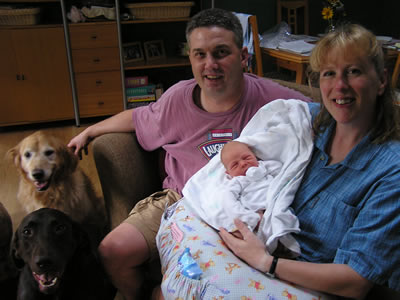 Leo with proud parents Susan, Brian, and dogs, Bailey and Porter.
< August     October >