Kia Ora
Peter has started going to a 'Beer Club' held on the first Wednesday of each month at a local pub. The club is run by the owner of Hamilton Wine Company who imports a lot of different beers from around the world. Greig and Alex are regular attendees and they persuaded Peter to go along. Each meeting there is a tasting of six or more beers based around a theme, along with hot snacks. This month the theme was English Ales and although Peter had tried most of the beers, there were a couple he hadn't come across before.
The replacement for Peter's damaged Thieve's Guild model arrived with a surprise package . He emailed Hilary back in the UK and she solved the mystery.
As she explained "We recycle packaging materials from the Wholefood shop next door. They must have missed some containers at the bottom of the box. We usually spot most of them and returned them next door, but looks like one was really determined to make a desperate bid for freedom and made it all the way to New Zealand.
You have to admire the spirit, even if we probably broke a hatful of treaties and import restrictions"
The house nears completion.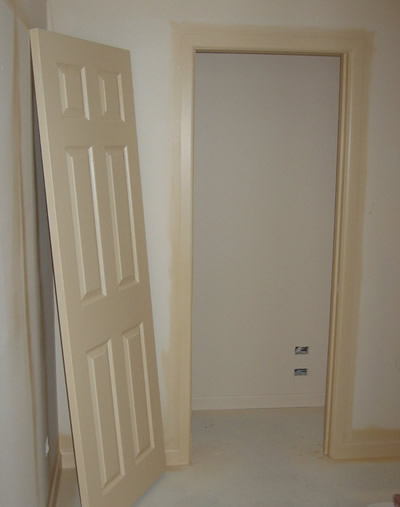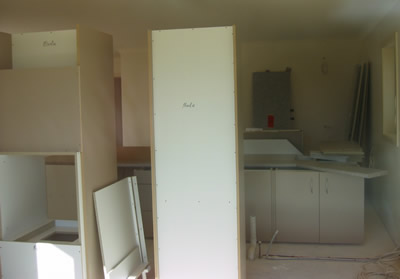 Work on the house is concentrating on the inside now, the plasterers have finished and the painter, John, has been busy. He's a perfectionist which is great for us as the finished work is excellent.
The kitchen cupboards have arrived and been fitted. The electrician has been back to start putting in all of the switches and light fittings.
We've had a meeting on-site to discuss how the Ann's wardrobes will be laid out. Peter's clothes may well be stored in the garage (or even the shed).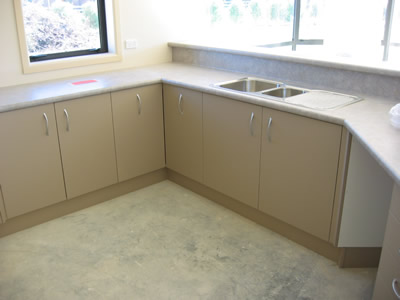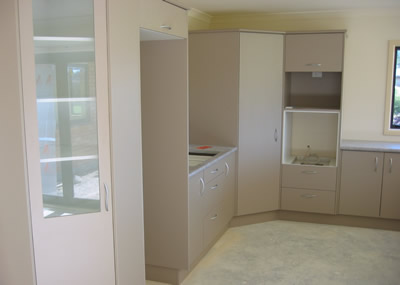 The builders still haven't sorted out the sewage system (despite us getting a quote last November and informing them four times which system we wanted) so we sorted it ourselves – in two days.
Outside we've killed off a lot more grass where the 'front' garden will be. We've laid weed mat over the area and covered it with the last of the woodchip from when we had the trees cut down to make way for the drive.
To start our garden off we planted a Japanese Maple in the corner – to create a focal point.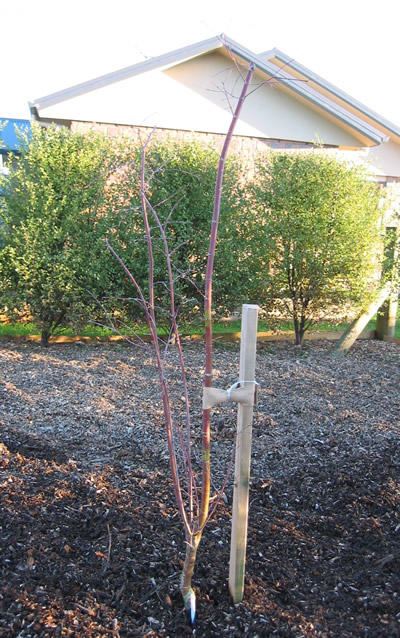 We've also been stockpiling branches to turn into more woodchip in a couple of weeks time.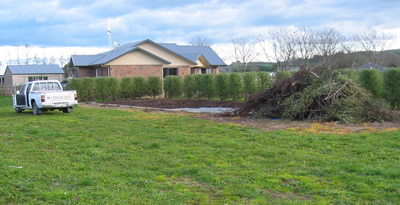 After a very dry June we had a very, very wet July – with a 'lake' where the drive should be.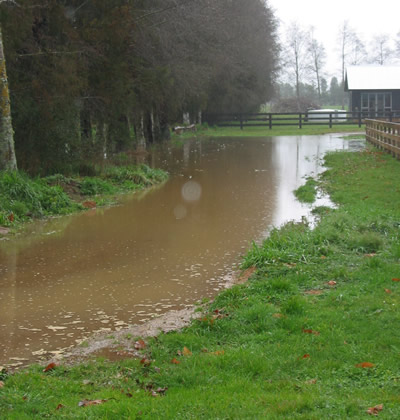 We've both had new specs. Our old ones were over three years old and with the sun here so strong for much of the year we needed new 'sunnies' too – to protect the eyes outside. Needless to say it cost an arm and a leg! Ann has finally given in to slightly older age and had a pair of progressive lenses. Now she can do her cross stitch again – so she may even get around to finishing the castle and dragon that she's been doing for her Dad for the last five years!
Ann has also been to the dentist (the other arm and leg here) involving an extraction, root canal and bridge work. She refuses to say exactly how much it will cost (approximately one months wages).
Good news. The NZ government are now subsidising doctors fees for 'mature' patients – so trips to the GP now cost half what they did before. Now anyone thinking it's very expensive to live here in New Zealand need to think again. It can be expensive (but unless you're with an NHS dentist in the UK it's expensive there too) but overall it's still cheaper here.
Work for both of us is as busy as ever. Ann had a call back day on the 22nd – learning all about Intensive Interaction with Mark Barber (originally from the North of England), so Peter spent the day tidying up the section and moving soil to the far end out of the way.
On the 30th we went on a trip to Tauranga – to Adriaan and Poppie's bonsai nursery.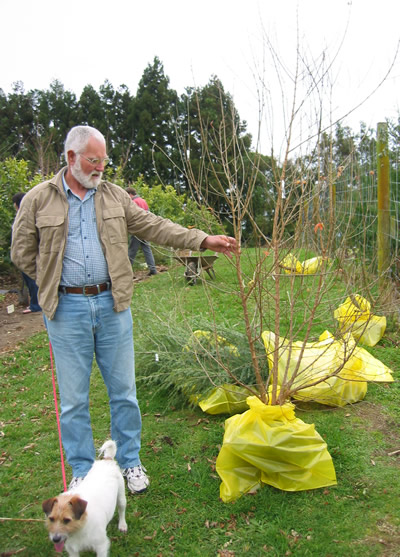 Noel and Sam inspect one of Peter's trees – a Chinese Maple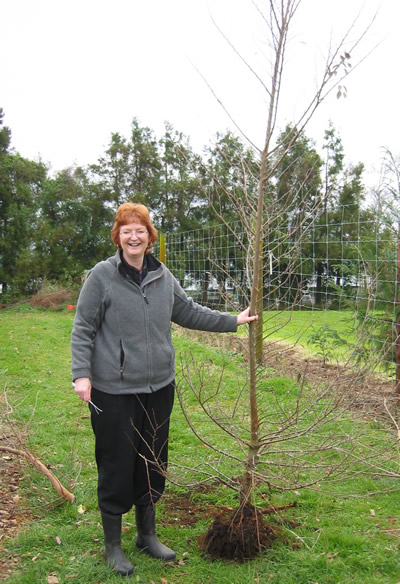 Ann gets savage with a Chinese Elm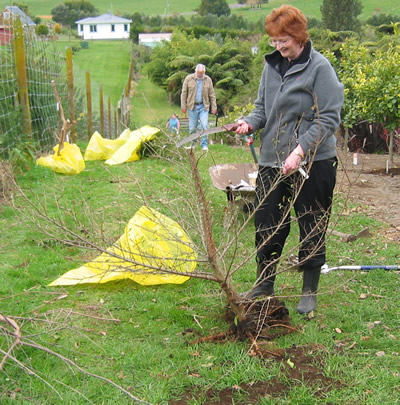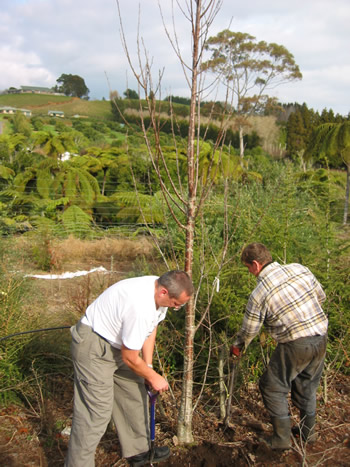 Peter and Adriaan excavate Ann's little Cherry Tree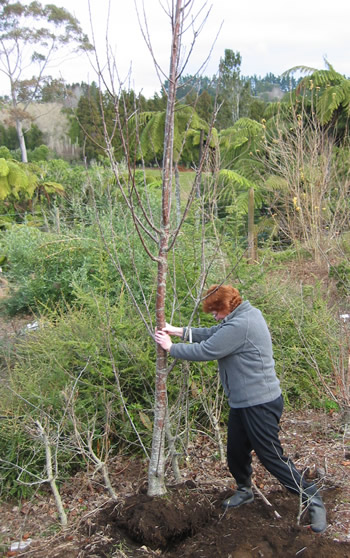 Lift!!!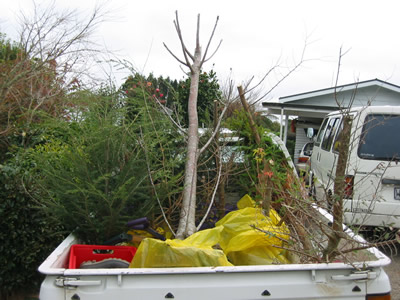 The Ute loaded for the trip back to Hamilton (not all the trees are ours).
News from home
Mel has sent us a long email updating us on how she and the boys are doing. Kieran has left school and been accepted at Wasley Sixth Form College where he's taking maths, physics, P.E. and psychology. He attended his prom last month and looked stunning!
Arron and Kyle have been made prefects and love the responsibilities – or is it the power!
Reece did well in his SATs, getting level 4 in literacy & numeracy and level 5 in science.
Darren's been traveling a lot with his job. He's the blue eyed boy at the moment, just waiting for a promotion to come up.
Mel's got a new headteacher at school and he's very much into parent involvement which is great for her job. She is still in the specials (special constables) and loving it. She has been offered 2 positions with the regulars but they were too far away to travel.
Dave and Ann have sent us some pictures of the kids.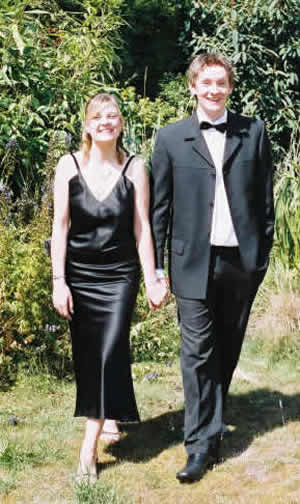 Helen and Andy at his graduation ball.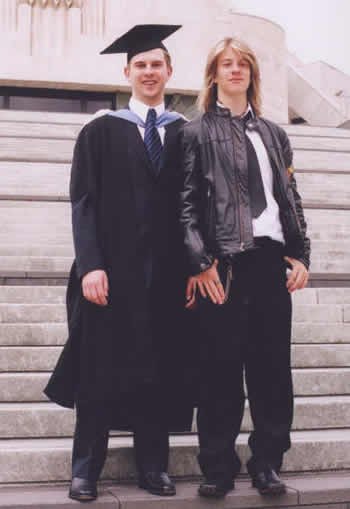 Nick at his graduation ceremony with JD (looking every inch the moody rock star drummer).
Congratulations to Margaret and Liam who are planning to marry next year (hopefully Margaret will send us photo's next month as we've not met Liam yet). Ryan had his confirmation earlier this month too.
Good news about Lisa. She's had her double hip replacements and is recovering well. Hopefully she'll be home in the next week or two as Paige has been missing her a lot.
Ann's Mum and Dad had a great time in the USA with their youngest grandchildren, who are growing up fast.