Kia Ora
Peter has passed another Microsoft exam and is now a Microsoft Certified System Administrator.
Greig, one of Peter's work colleagues enjoys a good beer every now and then. It was suggested that he organise a beer tasting evening. He chose a wide range of beers and gave a talk on the style of each of his selections. Some were very much admired whilst there were one or two which are very much an acquired taste. The event was followed by an impromptu trip to a local curry house to round off a very enjoyable evening.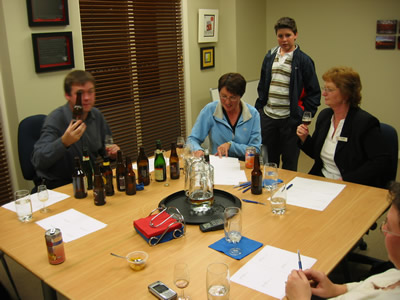 Greig, Master of Ceremonies, pours another beer for tasting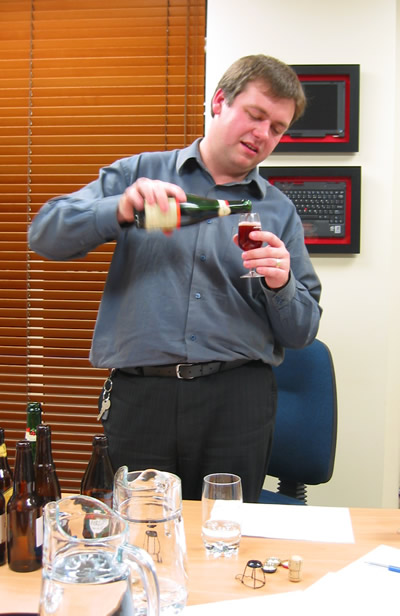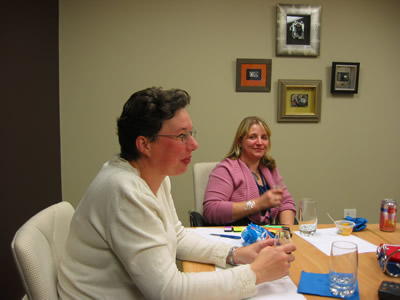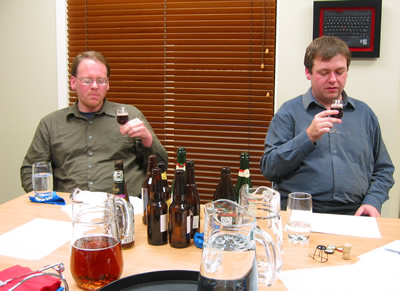 Work progresses very slowly on the house, almost no activity for a couple of weeks. The outside is nearly finished and bits have been done inside. The architrave and skirting board have been fitted, as have all of the garage doors. The ceilings have gone up and we are awaiting the plasterer. Outside they have still to install the water and sewage tanks.

We have a lodger. Ice Cream has come to stay and help keep the grass down. Dale, one of our neighbours, has almost run out of grass for her so we are letting her graze on our section whilst his grass recovers.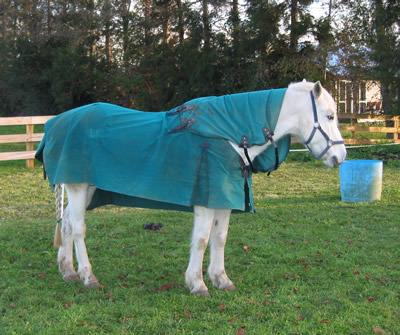 electricity for 18 days, including one area where Ann originally applied for a job. She is so glad she didn't get that job!! Apparently it has been the coldest June for 38 years. The only happy people are those who work in the ski fields, they have all opened a couple of weeks early. The last 10 days or so of June have been very sunny and dry during the day but clear and cold at night.
We spent the last weekend of June tidying up outside. We had dry sunny weather and managed to trim the Pittosporum hedge. Peter also managed to trim some of the Berberis hedging at the top of the section which had been missed by the farmer who does most of the hedges with his tractor.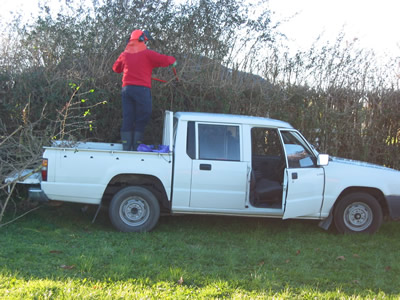 Following on from Greig's beer tasting, Peter organised a cheese tasting evening at work. With 9 cheeses on offer (and wine and beer of course) it proved to be a fun evening.
Ann celebrated the end of Term 2 (two week winter holiday) helping at the senior school dance. The theme this year was 'Cowboys' so all the staff and students dressed in stetsons, bandanas, jeans and boots. The students had been practising their line dancing all term and had a fantastic evening.
News from home
Ann's parents have gone to the states to visit John, Allison & the grandchildren.
Peter's parents have been working hard in the garden. They have had the privet hedge taken up from the front garden and part of the hedge removed in the back garden. It has been replaced with smart fence panelling which will make the upkeep a little easier. John is slowly recovering from his double knee replacement surgery. However he fell over in the back garden last week and needed a little help in getting up – fortunately the fall did not damage his knees. When Ann heard about it her only comment was "Tell him to take more water with it next time" – no sympathy there.
The other Ann Mudie is going up in the world – she is now Acting Deputy Head at Swanshurst School. More paperwork!!
Helen has just finished her first year of Physiotherapy training at Bristol University and passed all her exams – well done! She and her boyfriend Andy celebrated his graduation by attending his graduation ball.
Nick has also just graduated, with a B.Sc (Honours), in Computer Science and JD is awaiting his GCSE results – exams all round.
Congratulations to all.
JD and his band have just recorded some professional tracks to be sent to recording studios. Helen was not impressed to know that she was being thrown out of her room so they could record his drum part in there. Dave has promised to put it all back to normal for when Helen goes home, even though Josh has ideas on turning it into a music studio!
Our old neighbours, Lily and Alec, have just returned from a two week 'Holiday' in Poole. Alec spent most of the two weeks decorating. But Lily is happy because, after four years of gentle persuasion, Alec has finally gotten rid of the old car he kept in the back garden – and they even managed to get £20 for it.