Kia Ora
Work continues on the house, albeit in spurts, the roof of the bay window has been plastered. Pink Batts insulation has been inserted into the gaps in the frame, Gibb board is going up and the bricks are on.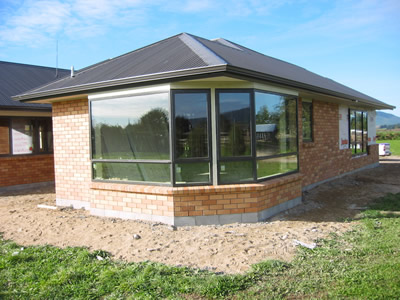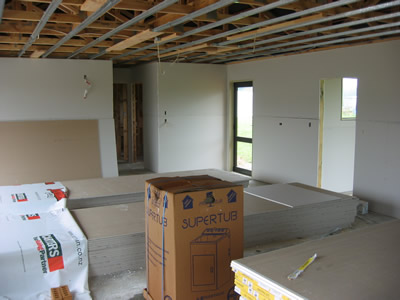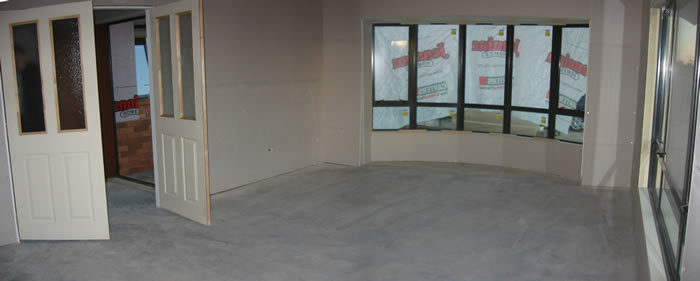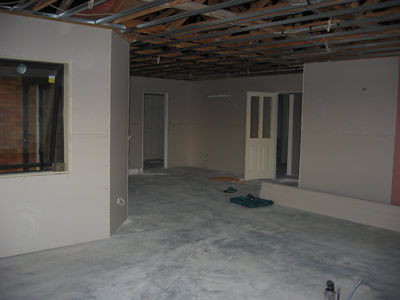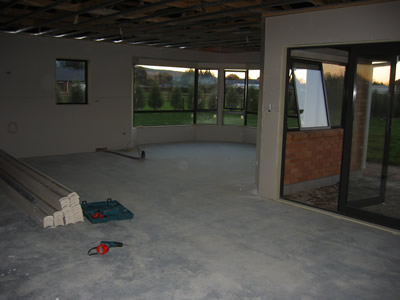 We have had a letter from the builders telling us that the house hand over date will be delayed by around two weeks due to new regulations requiring a certificate from the local council to confirm that the building has been completed in line with all the relevant legislation. This can only be done after the building has been completed and is ready to hand over.
The hedge at the top end of the garden has been trimmed by a local farmer with tractor. Peter then trimmed the bits that were missed. It took the farmer 7 minutes to do the entire hedge and 2 hours for Peter to do the little bits left and tidy up!
Ann's cross with the local woolly backs as they've been nibbling on her newly planted Red Robin hedging. She even threatened to stop being a vegetarian for a few days and eat mutton stew.
One of the wettest May's on record – we have our own mini lake to prove it!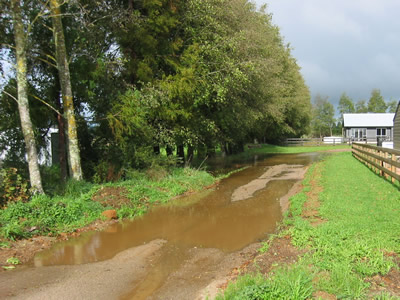 The section just to the south of us have had the Poplars taken out along the bottom of their section and the ugly stumps taken out down the one side. This gives us an even better view of Mount Kakepuku.
We have been spending part of each Saturday looking for furniture for the family room. Despite the house being large by Kiwi standards, the space is quite tight. We have found a local shop which will make two new 2 seater sofas to fit the space available.
Ann took one of her junior classes to the Circus last week. Well – Ann expected the traditional big top etc but of course that's not PC these days. It was held at the local theatre and consisted of a clown, a couple of jugglers and a comedian. The kids seemed to enjoy it.
We went to the cinema for the first time. Peter's boss occasionally gives out free cinema tickets so we used a couple of these to go and watch MI 3. Awesome special effects, popcorn and fish & chips afterwards made for a great night out!
Ann spent the final week of May in Australia – at Surfers Paradise on the Gold Coast to be exact. Although she kept telling everyone she was going on holiday it was, in fact, an IT conference and she went with three other teachers from school. As the plane left at 6.30am from Auckland airport Ann had to get up at 3am and since Peter was taking all the teachers to the airport so did he! The Gold Coast is supposed to be a place of eternal sun and warmth, but wouldn't you know it, they had the coldest May day on record whilst Ann was there – typical!!! Anyway she had a great time learning about all things special needs and computers and arrived back at the house at 2am the following Sunday.
The exchange rate has been falling rapidly and is now in the region of £1 = $3. If you are thinking of coming over for a visit then you should change your money now. When we started changing money to pay for the house it was £1 = $2.50 and has been as high as £1 = £2.40
Ann & Dave are hoping to come and stay with us next August (2007). If you want to come and stay then check the diary dates to see when the best time would be.
Traditionally the end of May is when the farmers in NZ move farms – along with their own livestock. This used to take 2 or 3 days, walking cows along roads, camping on the road at night and causing road havoc. Now it is much more organised although anyone associated with farms has to have one or two days off at this time to help move stock, equipment, household and personal stuff.
News from home
Peter's Dad, John, is out of hospital and slowly recovering from his double knee replacement operation.
Ann (the other one) has been promoted again and is now acting assistant head – she can now do even more paperwork and have even less spare time – congratulations!!
JD has a new set of drums which 'cost an absolute fortune'. Ann & Dave say he's determined to make them paupers! He's in the middle of exams but (rather like Dave – no stress just laid back) any way – good luck JD.
Helen has nearly finished her first year and is out on placement in June. She can't believe that they're letting her loose on real patients!! She and Andy have bought a house in Bristol which they and Helen's friends will live in for the next two years while she is finishing her degree.
Nick is hoping to graduate in July but the lecturers are on strike and his final dissertation and exam marks will not be taken into account – when the dispute is finally resolved then these will be counted. He may graduate with marks from first and second year but he was hoping to get more marks with finals. Best laid plans huh. Both he and his girlfriend Livvy are currently looking for somewhere to live – Ann & Dave are going up to Liverpool soon to help them find somewhere – good luck!
Catherine has almost finished her first year at University and loved every minute of it. She's passed all her exams and is planning what to do with her summer holiday (which will have to include lots of work as she's as poor as a church mouse – what student isn't!) In September she's looking forward to moving into a house with 5 other students (especially as four of them are boys!!)
Allison and John took the kids out to Falkor Ranch earlier this month and bought their second alpaca. Her name is Serenade (or to be more precise Serafina's Serenade). She is also pregnant and due in late July (the other alpaca is due in September), so by the end of September they should have four alpacas. A great start to their farm plans.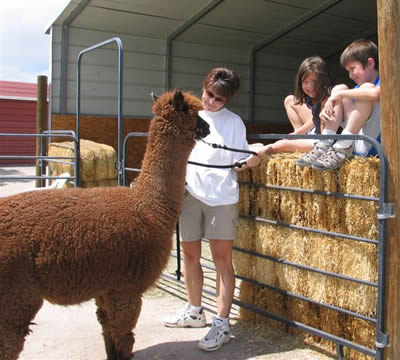 Peter's Granddad is getting out in the garden of the retirement home and offering his advice to the volunteer gardener. The pictures are of him next to a Judas Tree which has come from John & Muriel's home.
Ann's nephew Mark has been very busy lately. Not only does he work full time at BHS, but also in a local bar for a couple of evenings too. In his spare time he's been going to the gym and using the weights as well as doing his Taekwondo training. All this means he's very fit and so has now signed up to a model agency.
< Apr     Jun >