Kia Ora
We picked up a couple of bargain maples from a great nursery. We were treated to a guided tour of the growing on areas by the owner. He was throwing out some 1 – 2 year old conifers and we scrounged some off him for free. Luckily we now have the ute to transport our big trees!
Work continues on the house with the roof being finished, the electrician has done all the pre-wiring, as has the alarm guy.
Ann is standing where the front door will be – when it's 'unwrapped'.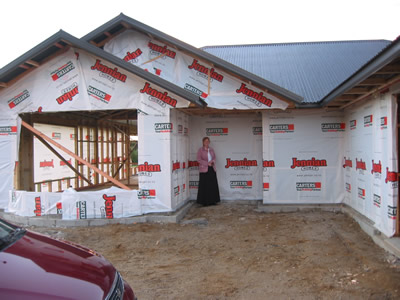 Over the long Easter weekend Ann planted 103 Photinia 'Red Robin' to form a hedge between us and one of our neighbours. We also sent out invites to all our friends inviting them for a 'Morning Tea Roof Shout'. Apparently it is a tradition that you throw a boozy party when the roof goes on. As there was no running water or electricity on site we opted for a more genteel approach with soft drinks and cakes.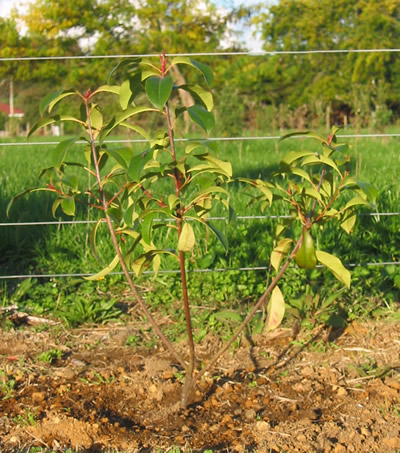 The plumbing has been started and the window frames are in.
Another tradition is that when the roof is on you celebrate by giving the builders a box of beer. So we now have some happy builders!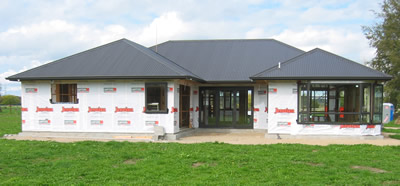 At last we have a front door!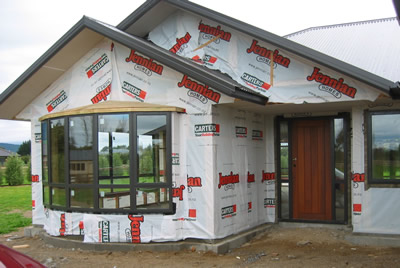 Balloons over Waikato – The annual hot air balloon festival was affected by high winds and rain and we only really saw one mass lift off on the Thursday when we counted 18 balloons aloft at one time.
To celebrate Maria's (teacher) birthday we went to a Mongolian Restaurant called Gengys.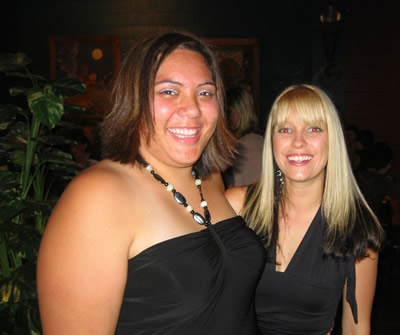 Here you put together your own main course from the selection of meats, vegetables, oils, sauces and spices. It is then cooked for you on a heated metal plate. You can really get some interesting flavours. You can also eat all you like so as you can imagine it's a very popular restaurant.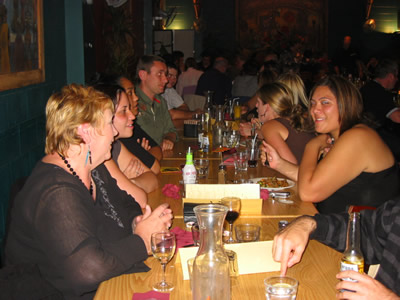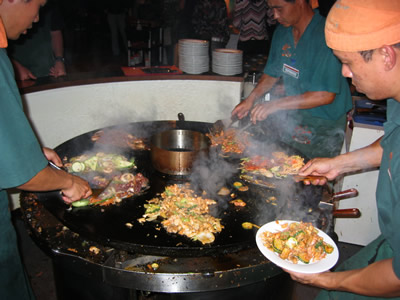 Last Saturday we tried a new restaurant, En Q. It didn't have an extensive menu but the food and service was superb – the best of the dozen or so we have tried so far – a three course gourmet meal with drinks for about £45!! Not bad eh?
Book Fairs are on again. Rotary had their annual three day event at the Te Rapa racecourse and this time we managed to get 19 books, 11 for Ann and 8 for Peter, all for the grand cost of $11.
Warning from Peter – Ann has been cooking!! As winter is coming Ann has decided that home-made soup and bread would be a good idea for lunch at the week-ends. So she's been out and bought a bread maker and a recipe book! So far she's managed curried kumara soup, pumpkin soup and leek and potato soup. The bread maker really does itself so Peter is still in the land of the living – so far! Watch this space for culinary developments.
ANZAC Day – commemorated on Tuesday 25th. This is New Zealand and Australia's poppy day. There were services all over the country. We went to a remembrance concert at the Hamilton Gardens by the Cantando Choir of which Jean (another Patave teacher) is a member. The singing was excellent and attendance above all expectations.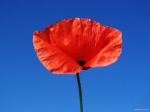 News from Home
Mark has now attained his Black Belt in Tae-Kwon-Do. He is now a first Dan and has a very proud auntie!
Congratulations!!!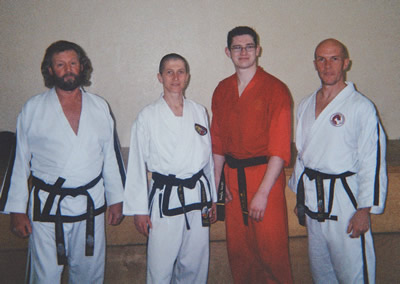 He is pictured here with the internationally drawn Grading Panel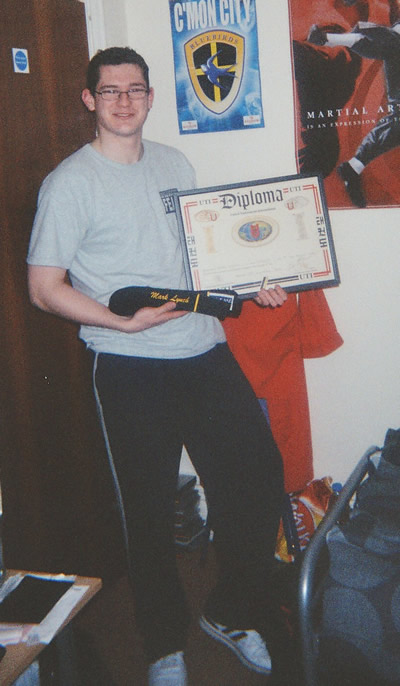 Alex celebrated her 6th birthday in style!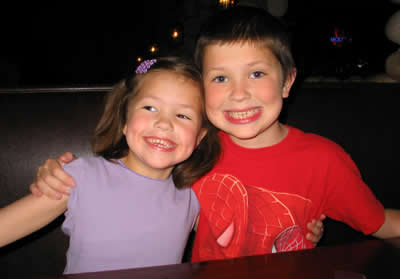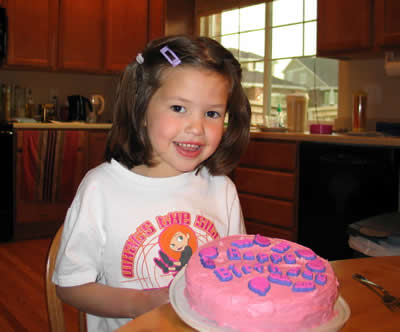 And here we have Alex modeling this years fashion for the garden!
Kylie, Brittany and Jessica – eat your hearts out!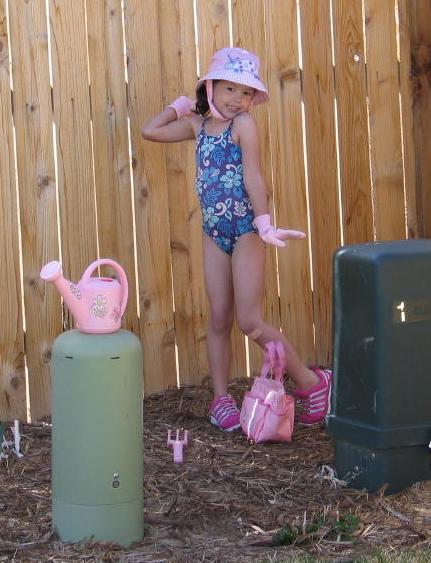 Mandy Greenaway, an 'old' friend of Ann's from Firs Special School, is leaving the UK and emigrating to Australia to live next month. Mandy was the first nursery nurse that Ann worked with at school and always told everyone that she 'trained' Ann when she started work at Firs School. Good luck to her!!!
For all those who are geographically challenged New Zealand and Australia are not that close and we wont be able to just 'pop over' and visit each other at the drop of a hat. It would be like someone living in Birmingham 'popping over' to Moscow to visit a friend (and that's just the East coast of Oz)!!
Do you think Australia knows just what she's letting herself in for?
Paige is growing fast. She has an ever expanding vocabulary and the cutest face!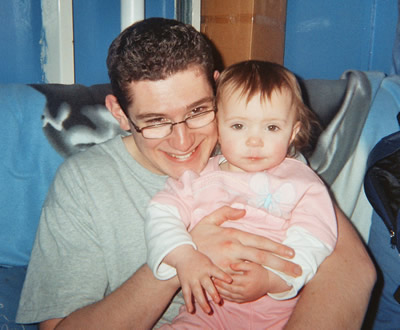 We also had more news from our old next door neighbours. Lily informed us that there seemed to have been some heavy frosts recently – which had prevented her from getting into the garden. This led to her doing some indoor 'pruning' of the wardrobes (which had to be done when Alec was out)! Still – we're moving into winter whilst the UK and USA are getting ready for summer! In fact today (29th) it was positively cold at only 17 degrees!!!! Brrrr.
Last but most definitely not least – we want to send our love to Peter's Dad. He's just recovering in hospital from bilateral knee replacements. No doubt he's causing loads of trouble for the nurses at the same time! So – a message from Ann to John – Be good!!! (and no – you can't blame all the others).