Kia Ora
On the 1st we had our meeting with the builder to choose all the colours, finishes, carpet, tiles and appliances etc. They are now putting the plans forward to the council to get building consent and should then be able to start work. Pandora has the latest pictures of the colours on her page.
Since Ann has hijacked one of Peter's new toys and he isn't allowed to play with the other one yet, we went and bought him yet another new toy, this time a Brush Cutter (Strimmer). The one we got also has an additional attachment for turning it into a hedge trimmer.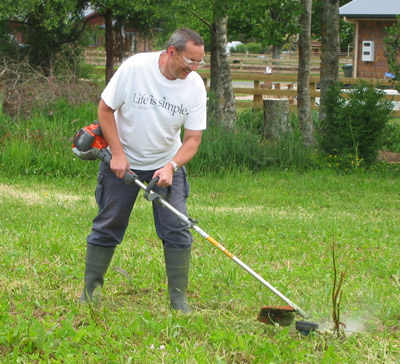 I'll get you (Ann missed this one with the mower)
Using the brush cutter around the Pittosporum hedge certainly makes a difference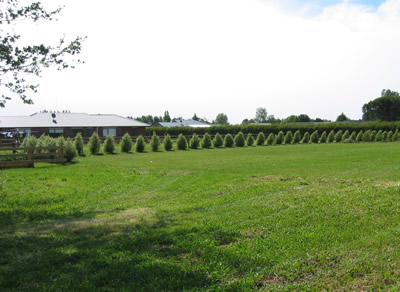 Every weekend when we go out to the section we spend a couple of hours pulling up the weeds and long grass around the Pittosporum hedge and laying weed matting and a wood chip mulch. At the end of the day it does't look like we've done much as there is such a lot to do.
Bonfire night – a surprise party for Beth (teacher at Pat Ave).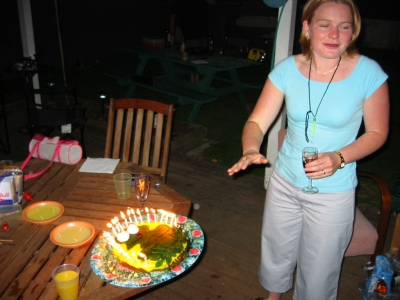 It was strange having a BBQ & walking around in short sleeves whilst watching the fireworks (not that Ann remembers much considering how much wine she had to drink!!)
Ann's driving is getting a bit dangerous! Peter arrived at the section one evening to find the mower was a bit wonky! She had managed to back the mower into a rather large hole where a gate post had been and couldn't get it back out again. Of course she blamed it on the mower for going the wrong way – huh!.
Another party at another teacher's house, Karen (also an ex Brit) saw Jean and Tim (ex Brit teachers, from Wolverhampton no less) agreeing to adopt two gorgeous kittens (names yet to be decided).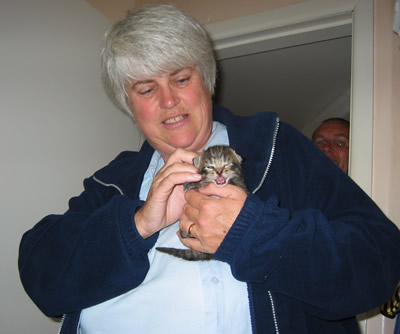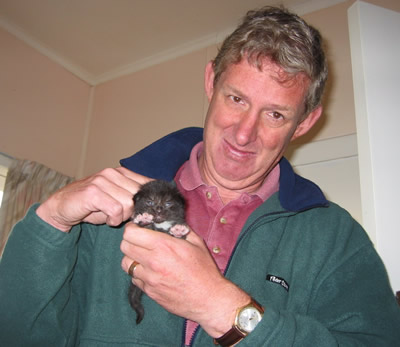 We spent a couple of hours going round the Ellerslie Flower Show in Auckland. This is NZ's answer to Chelsea and is the largest flower show of it's type in the Southern Hemisphere. There weren't many gardens on display and the sales stalls were more jewellery / art / household appliances rather than gardening. So Chelsea and Gardener's World need not worry about the competition.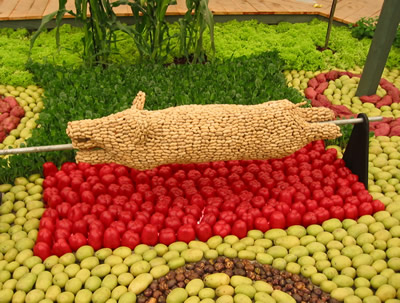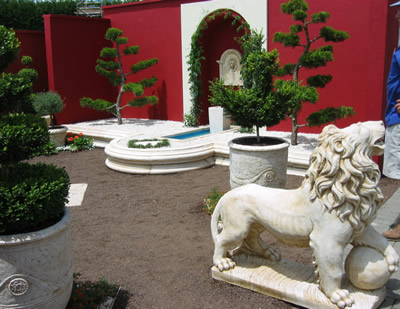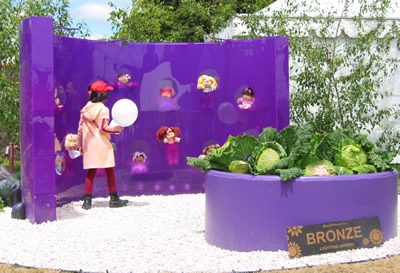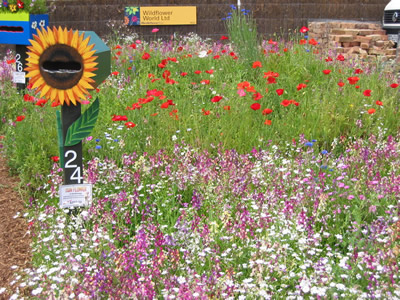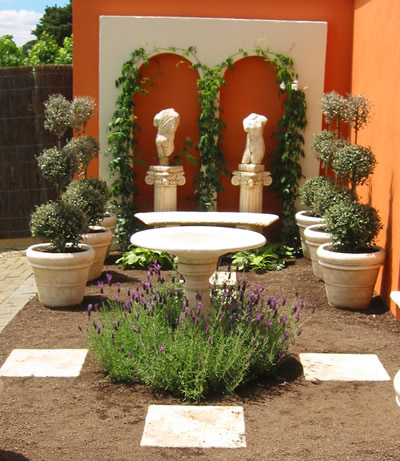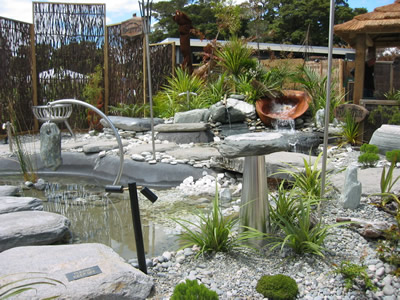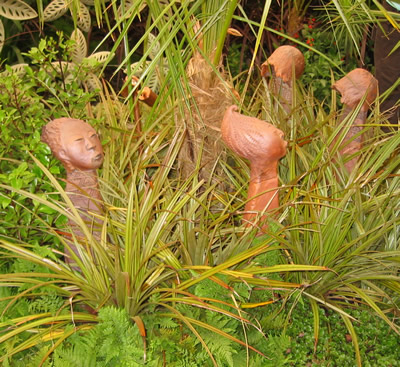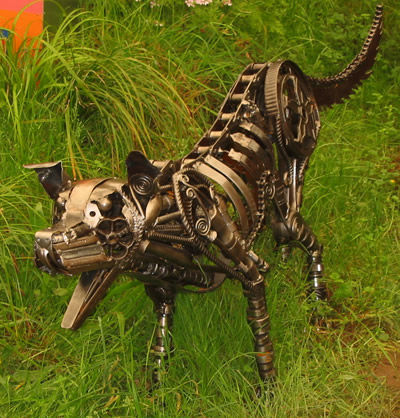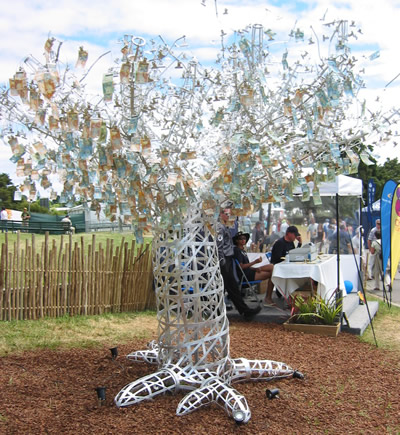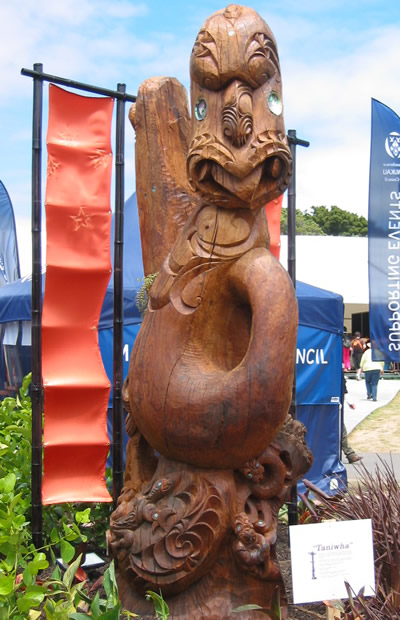 Christmas lights and decorations have begun to appear – although unless you go out after 9pm (when it finally gets dark) you're unlikely to see any lights!
Our Christmas meal with the bonsai club was great – we all went to Singapore (restaurant that is!) As Ann was the only vegetarian she got first choice at all the dishes before everyone else was allowed to tuck in!!!
We've had the row of Poplar tree stumps removed from the eastern side of the section. Our neighbour approached us to ask if we would like this done as the trees were beginning to block their view of Mount Pirongia. We wanted them down too as the roots of the sprouting stumps would soon be getting too close to the location of the house as well as blocking our view of Mount Kakepuku. They had a digger on site doing some work so they took them up for us. One of the stumps weighed around 5 tonnes.
One of the teacher's wanted some chicks so Marge arrived in school and sat on a variety of hen's eggs (none were her own) and hatched them all.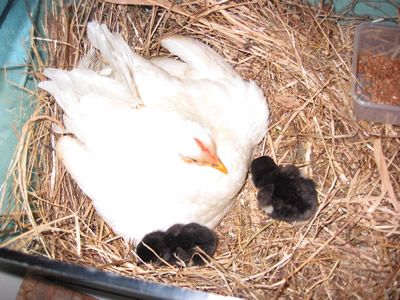 Marge has now gone back to her home and the chicks have all moved to their new home.  Apparently we may have kittens in school next week.
Peter went to Otorohanga for the first part of his chainsaw course. This was the theory day with the practical to follow in early December. He will then be allowed to play with his new 'toy' – if he's a good boy!!!
Ann's school concert was a big production lasting an hour and a half.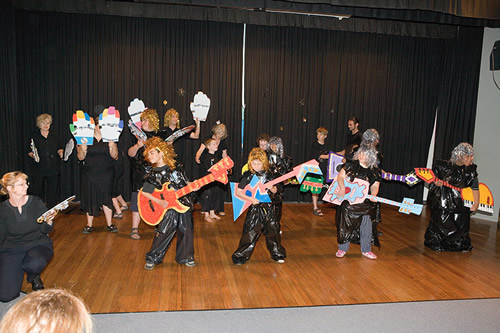 Ann's class did a Queen number – we will rock you!
Ann went to Rotorua for the day last week on an ASDAN course – you can always tell when you arrive in Rotorua because the smell of sulphur overwhelms you!
Last weekend was the Pirongia Festival of Trees. Held in the Memorial Hall. This was a display of Christmas trees and wreaths decorated by various individuals / organisations. These are auctioned off to raise funds for a local charity. As well as the trees there were nativity scenes from around the world and a christmas village.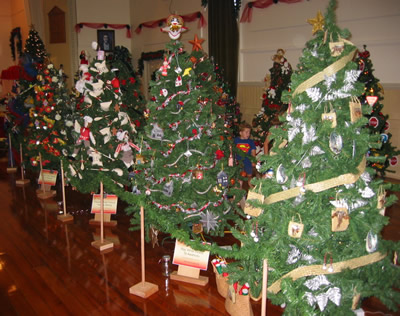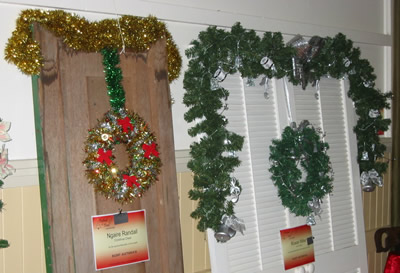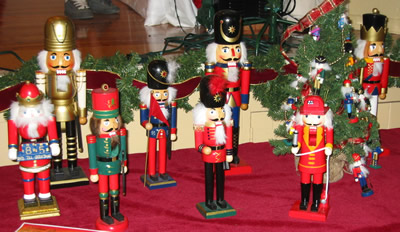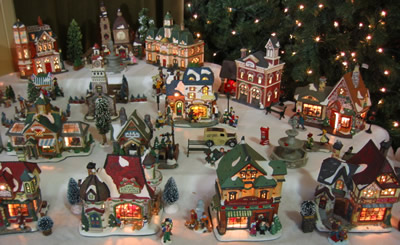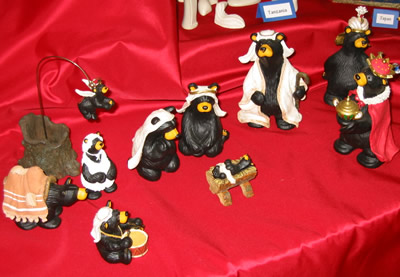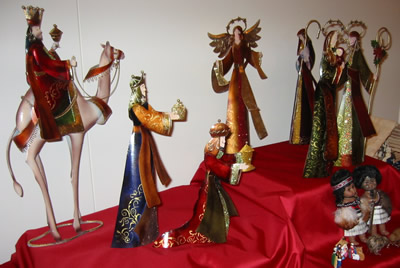 Two photos taken on the same day, one from Wolverhampton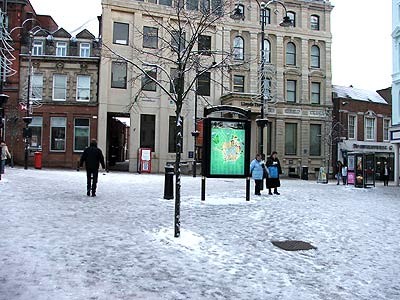 the other Hamilton – (where would you rather be?)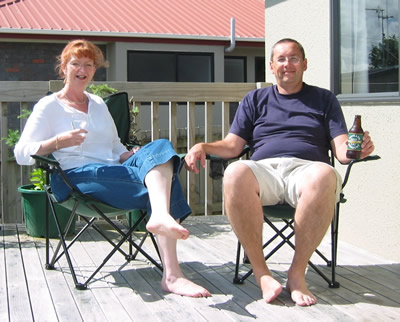 News from Home

Mmmmm – need we say anything about Margaret and Bill?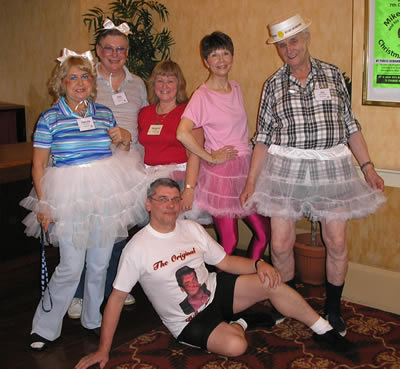 Mel has been training as a special constable and has her assessment soon – Good Luck!!!!
Congratulations to Darren who has a new job (after the Rover debacle).
Arron and Kieran both received prizes for their school work.
Reece and Ryan are on the local football team – Reece is the No 1 goalkeeper for the team – awesome!!!


The four Foxall reprobates – Kieran, Arron , Kyle and Reece
News from Ann's former school – Joyce is finally retiring!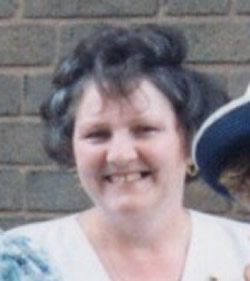 And she certainly deserves it after all the hard work, commitment and dedication she showed to both The Firs School and The Orchard School
All the best Joyce – you'll be greatly missed!!!!
Clive sent us a detailed report on the 49th's trip to the 'Veterans' shoot at Bisley. It would appear that the older you get the stranger the antics become, especially with regard to map reading, eating and drinking! What a pity there were no pictures – on second thoughts maybe that's a good thing.
Happy 1st birthday to Paige – Ann's first great -niece!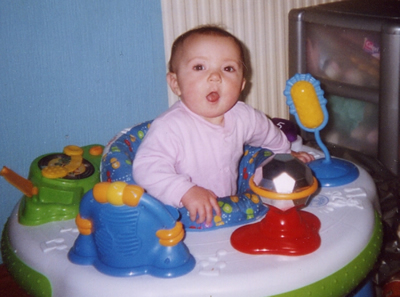 Isn't she gorgeous!!!
Peter's Mum and Dad have finished their bathroom and are now enjoying the luxury of it, including not having to climb in and out of a bath!
Ann's Mum and Dad are in Colorado having a great Christmas with their youngest grandchildren – hope the weather's good for them.
Dave Whiley, one of our friends from the 49th retires to enjoy life – hopefully in Devon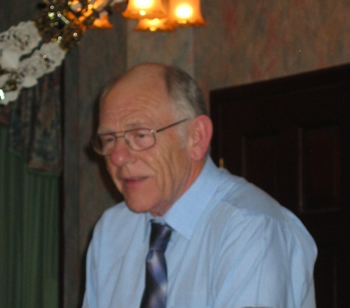 All the best Dave and Pauline