Kia Ora
Ann has been on a course in Auckland for three days – about Down Syndrome – with three colleagues. Needless to say they enjoyed the occasional glass of wine etc!!
It was a little damp over the first few days of the month, so much so that the river rose to the highest level we have seen and parts of our section flooded.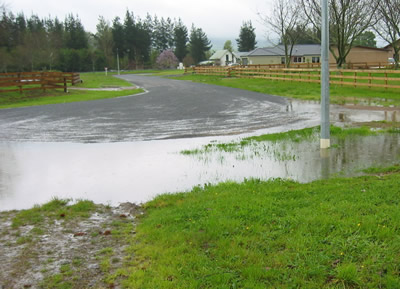 Hamilton Bonsai Club held their Annual Show at Hamilton Gardens over the weekend of the 15th and 16th. The facilities were fantastic and with over 175 trees on display the show was very impressive.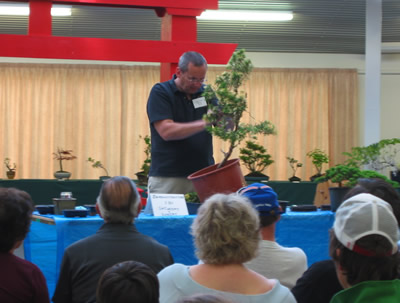 Peter did a demonstration on how to create a bonsai to a full house on the Sunday – not bad for his first public demonstration.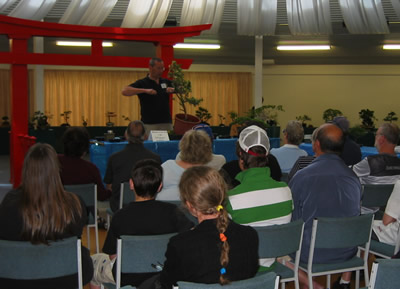 Peter has got a couple of new toys. We took delivery of his ride-on mower and chainsaw. It took him over two hours to cut the grass in the top part of our section, the grass had grown to 18 inches high – even though it had been cut two weeks before. Things GROW fast out here!!


The mower just fits into the shed – providing we take the grass collector box off the back.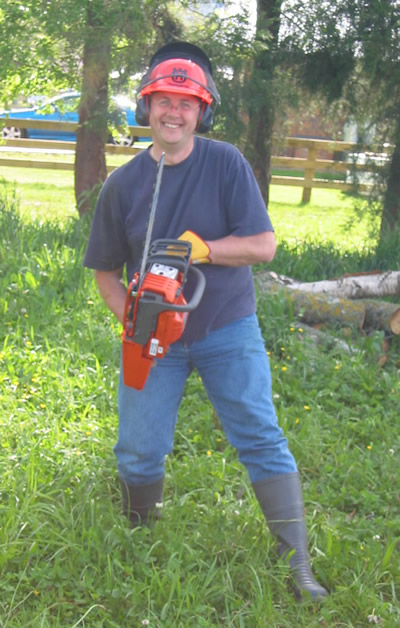 Unfortunately Ann won't let him play with the chainsaw until he has done a safety course (the next one should be in January) incase he chops something important off!!!!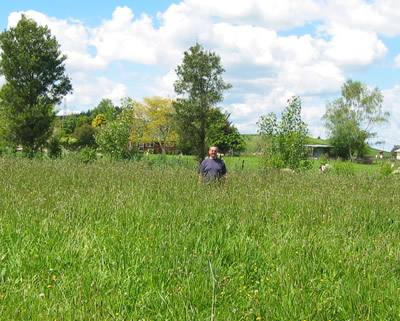 Boy – does this grass grow or what?
The following weekend we found that the grass had grown another 6 inches. Peter showed Ann how to use the mower and that was it – it's Ann's toy now.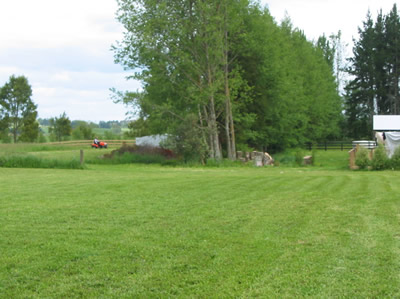 We've taken down the wire fences to give better access to the top of the section. Ann can be seen mowing in the distance.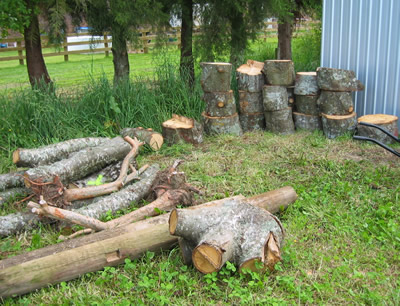 We have also started making a wood stockpile by moving the cut down trees (Peter reckons he can build a log cabin with the pieces – yeh right!!!!!)
The trees we have growing on in one corner were almost hidden by the grass.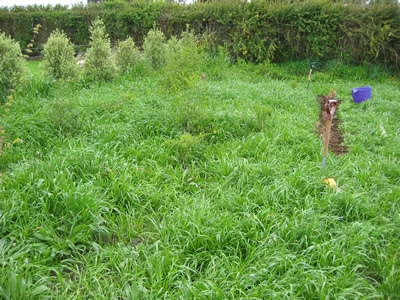 We've spent many hours digging up the grass and weeds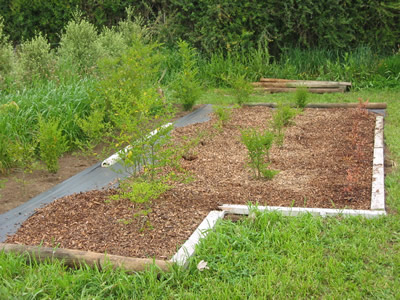 and putting down some weed mat and a wood chip mulch. Ann got sunburned the second weekend we were working – not bad for spring!!
Ann's been busy at school. She now spends a day and a half each week at a mainstream school supporting their staff with two students with special educational needs. The staff and students are getting ready for their concert production and Ann's class are performing Queens' 'We will rock you'!!! Lots of head banging!!
Peter has been sitting Microsoft exams following on from his course. He is now an MCDST (Microsoft Certified Desktop Support Technician) and taking the exams for MCSA (Microsoft Certified Systems Administrator), which he should complete in the new year following another course.
On the Bank Holiday Monday (Labour Day) we went with Dianne and Noel to look at some large bonsai pots near Bethells, to the north-west of Auckland. Although we don't need very large pots at the moment, we now know where to go to get them. Ann then visited one of her students who was in Starship Children's Hospital recovering from major surgery.
News from Home
Old family friends Nan and John (Lulu) have been kept busy – what with looking after their son's house whilst he's away, and going away on holiday themselves they have little time for anything else!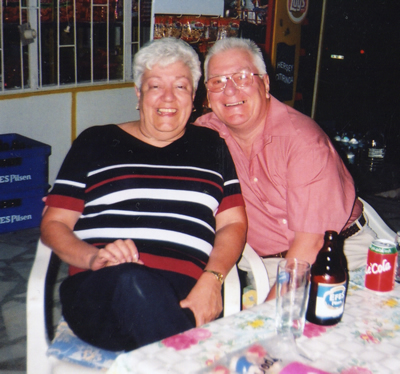 Jean and John went to the Royal Naval Patrol Service Association Re-union in Lowestoft. This will probably be the last major re-union and parade as the membership of the Association isn't getting any younger, the majority being well into their 80's. They had an enjoyable time with expenses paid courtesy of the Lottery. (At last we find someone who has benefitted from a Lottery grant). They're also just about to have a brand new bathroom – just in time for Christmas.
Colorado has had some extreme weather lately. Allison wrote to say that one day it snowed 18inches, a few days later the temperature was in the high 70's then dropped back to 50 degrees!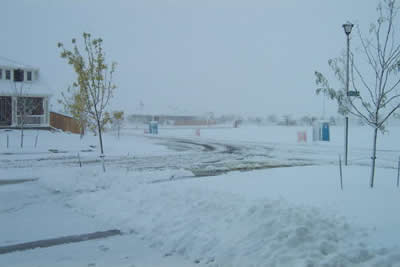 They say you have to dress for three seasons in a day in New Zealand but it sounds like you need to be prepared for all four seasons in Colorado!!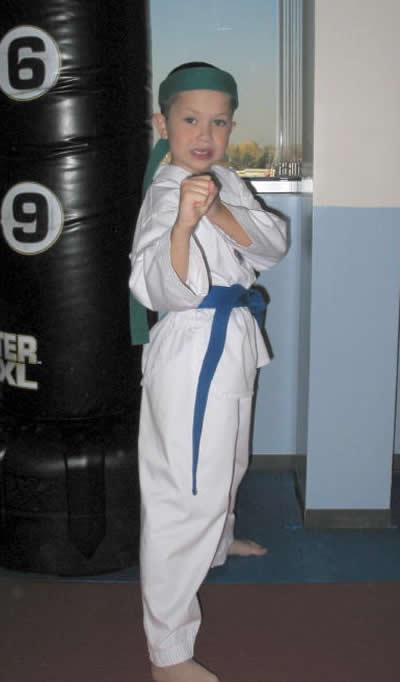 Michael now has his blue belt in Tae Kwon Do – awesome!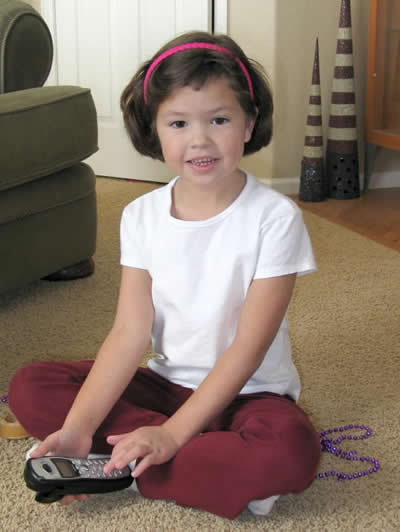 Alex with her new hair cut – just like a princess!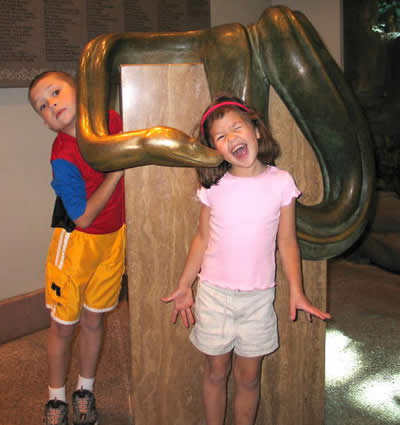 They also had a close encounter with a rather large snake at the zoo!!!!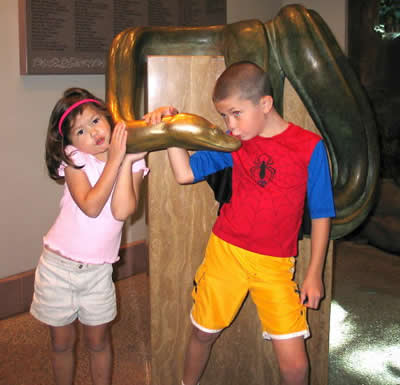 Alex and Michael took Allison and John to a gold mine, Buffalo Bill's grave and museum.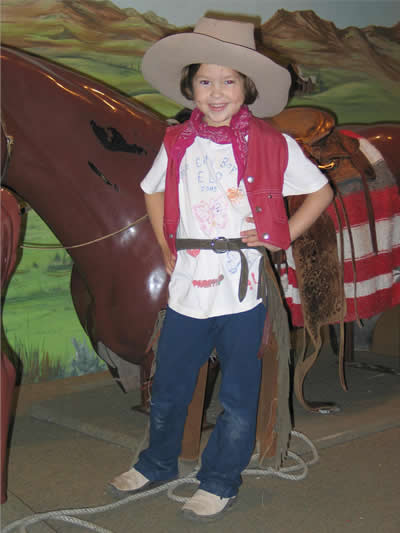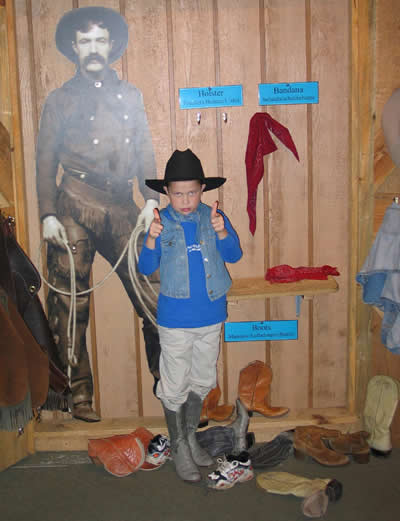 As you can see they enjoyed being a part of the wild, wild west!!!