Kia Ora
Peter had a couple of days off at the start of August. He went down to our new property and transplanted a load more saplings as well as tidying up some more of the trees. He marked six trees to be chopped down to make way for our new driveway.
Those of you that know Ann's 'love' of spider's will be highly amused when you hear about her arachnid encounter. She was reading and picked up her glass of coke without looking at it – big mistake! As soon as she felt the bite inside her mouth she nearly threw the coke, glass and all, across the room. When she'd calmed down (a little) she discovered a very BIG white-tailed spider paddling frantically round and round the glass. Their bite is venomous and her mouth was sore for a day or so. Ann's calm, composed and unruffled outlook on life has taken rather longer to heal!!!


PS – The spider was definitely harmed during this episode!!! It is no more.
Another fence has gone up on our land. This one is along the side of the property by the driveway between us and Grant.

The drive looking towards the house with the new fence on the left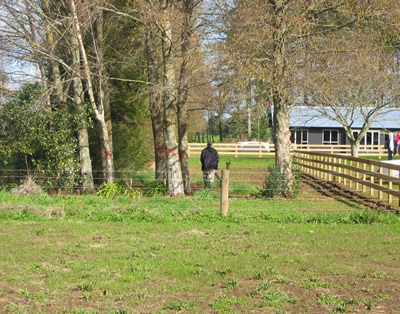 Peter walking down the drive – the trees marked with red X's are coming down. They should give us for a couple of month's worth of firewood


Taken from the corner. The house will be built front centre of the photo (once we get the plans)!!
We have been to our third charity bookfair, this one provided our smallest haul yet – only 11 books.
Although it is still officially winter, there are many trees in bloom, Magnolia, Camellia and Cherry trees are all making the countryside look very pink.
Peter has been eyeing up a new ride-on mower & chainsaw. To house them he has cleared a section of grass in readiness for putting up a little (3m x 3m) shed. It is a pity that Ann wouldn't let him practise cutting trees down on that large Sycamore at the bottom of their old garden. He has also been busy trimming the trees which are staying and digging up tree stumps and fence posts in readiness for the building work.
Ann's cooking is said to be improving, which is just as well as she will have to fend for herself when Peter is away at the end of September on a course. Her latest attempt at school was Mushroom curry, one child was even forced to accept thirds.
Peter's training course at the end of September will be in Wellington. This will involve him flying down on the Sunday and staying in a hotel for the week. As it is during the school holidays Ann may drive down for a couple of days before both of us driving back at the weekend.
Animals are taking over at Ann's school. She had to be reminded that we cannot have pets in our current house otherwise she would have brought home a couple of puppies. There is a house trained rabbit who comes in to school with one of the teachers every day. Woolyum is also a new addition to the flock and attends school most days. He's having a few days off next week – going for the 'elastic band' treatment!!!!!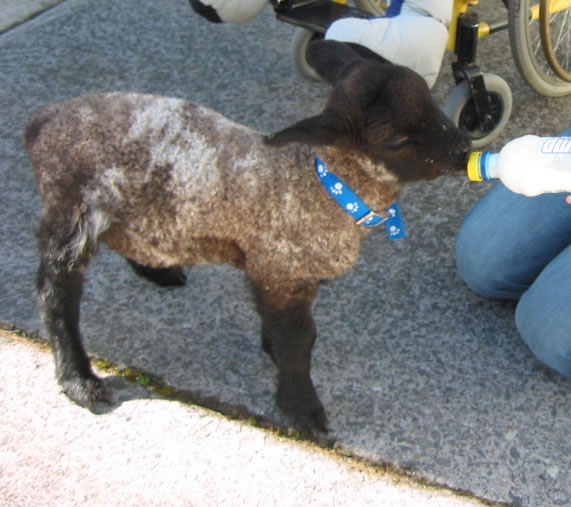 There is no news on the house plans, we had been hoping to have the plans by mid August but for one reason or another they have been delayed until early September. This could push the moving in date back to February 2006.
We tried a new restaurant for our anniversary. Palate opened at the beginning of February and is a small, very friendly restaurant at the southern end of town. The food was superb and the staff very welcoming and helpful. We shall most definitely be going back.
We've been given 16 small Kauri trees by one of the staff at Ann's school. As these were bare rooted Peter had to dash down to Pirongia after work to plant them before the roots dried. He had about 15 minutes of twilight to get them planted and watered before it became too dark.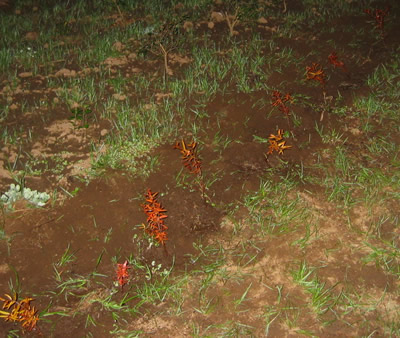 Planting some of the small Kauri trees at dusk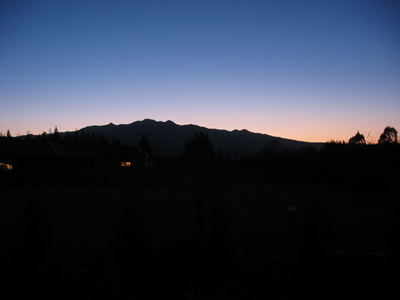 Mount Pirongia at dusk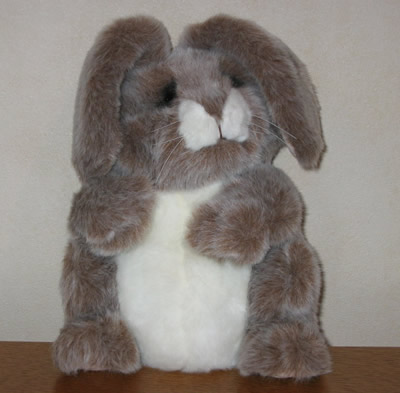 Meet Beatrice – the latest rabbit to join the clan.
And this is 'The General'. He will be standing guard at the entrance to our drive (eventually) and collecting the mail for us. Peter had to have him especially made for Ann – lop-earred rabbits are not that common round here.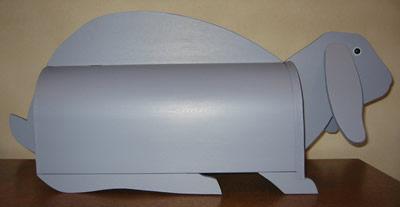 The last week of August has been rather warm. Daytime temperatures have been in the high teens under cloudless skies. Not bad for the end of winter.
News from Home
Ann's Mum and Dad have been busy in the garden which is now almost finished. They are then going to start moving walls around inside the house! In between they've been out and about having a BBQ in Wakerly Woods and visiting Belvoir Castle.
John and Gwen have been off into the wilderness of Kentucky to do a bit of White water rafting. They enjoyed it so much they plan to go again.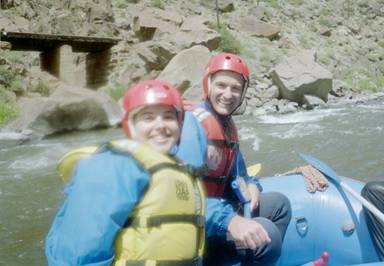 Alex and Michael have both started their new schools.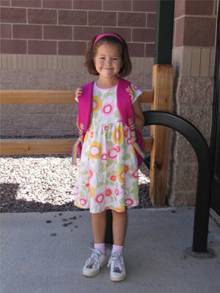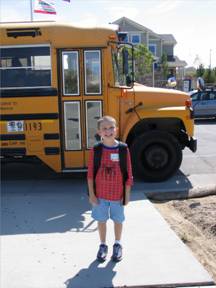 Catherine went to her senior ball and, from the photo, looked stunning!!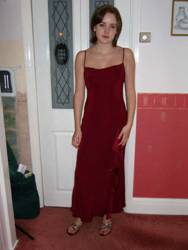 The RNPSA (Midlands) were asked by the Lord Mayor to provide members to join in Birmingham's celebrations to commemorate the end of World War II. As Peter's father, John, is on the committee, he was one of those able to submit his name to attend the march past and the slap up meal at Birmingham Town Hall with Jean.
His aunt and uncle, Muriel and John, are off on a cruise around Canada and the US on the QE2 – not bad eh?
Ann and Dave had a great time in Turkey – temperature stayed at around 35 degrees each day – slightly warm wouldn't you say.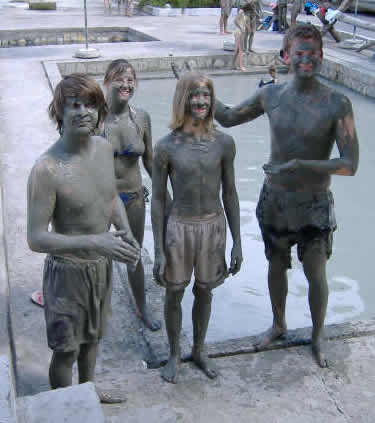 Helen and Vicky got their A levels – congratulations!!! David also got excellent grades in his exams – also congratulations!!!!
Helen starts at Bristol University and Catherine at Cardiff University in a few weeks time so Good Luck to them both.
JD had a great time drumming his way through the Summer holidays. He did four days at the Brighton Institute of Modern Music where he drummed constantly and hung out with people called The Million Dead, Therapy, Sithe, Pitchshifter, Prodigy etc. His band also had a gig at the Rock Cafe as a support group to Fred Zeppelin!
Lily and Alec have sent us news about our old garden. All of the vegetable plots have been dug up, the polytunnel has been taken down along with the screening for the Japanese garden and the whole area is now lawn.