Kia Ora
For Peter's birthday we went for a meal at Tables on the River. It was the first day of the local round of the Wild Food challenge. Monteith's Brewery have a competition for restaurants to use 'Wild' Food' in their menus and match it to one of their six beers. Peter had 'A Pouch Full of Forested Delights' – Wallaby with Ureneka and Acorn dumplings with a Cactus and Woodear Mushroom oasis. He claims it was very nice. Other restaurants around New Zealand have dishes such as:
Warner Bros Sausages – Daffy Duck Liver, Bugs Bunny Legs and Porky Pig belly
It's a Bugs Life – Morton Bay Bugs (Squat Lobster)
Run Rabbit Run – Rabbit and Mushroom
Snow Business Like Deer Business – Wild Venison
I Figured that was a Flying Sheep – Muttonbird
Snappy Starter – Crocodile Soup
Woolly Jumper – Kangaroo and Lamb
Bambi's Demise – Wild Venison
Road Runner Wreckage – Ostrich Pate
This Eel is Smokin' – Smoked Eel
Other ingredients include Possum, Hare, Pheasant, Quail, Wild Boar, Horse, Goat, Snails and various fish and shellfish.
For his Birthday, Peter had a surprise present from Ann, a set of saucepans! They were expensive, copper bottomed saucepans – nothing but the best for him!!!!!
Local News
One of the local birds, the Pukeko, has an interesting time when it comes to mating. Both male and female have the same plumage and mistakes have been made when trying it on with a potential mate!!
Peter has had a hard time at work. Of the four technical people at IT Partners, Andrew (the boss) was in the USA on business, Craig was in the UK on holiday, and Greig was off ill, leaving Peter on his own for a couple of days, including a quick trip to Auckland to sort out one problem.
Building work continues on the retirement homes behind us at the moment. We think they can only squeeze two more buildings in. As you can see land is at a premium and gardens are very low on the list of priorities!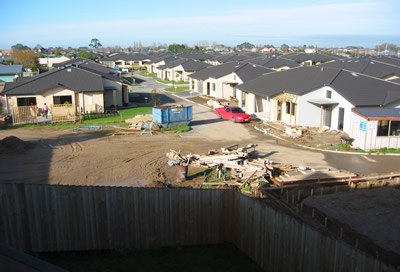 We have been spending part of each weekend looking at carpets, tiles, paints and kitchens for the new house. We think we have a colour scheme in mind but that may change when we meet with the interior design stylist.
We have had a trip to Auckland with the Bonsai club to look at a couple of private collections and call in at a couple of garden centres. At the last one there were one or two plants bought.
We have started tidying up the row of trees at our new property. We've been taking out the low branches from the trees, pulling out all the deadwood and transplanting some of the small saplings which will be in the way of the new drive. These have been put at the top of the garden in a temporary growing on area for the bonsai trees.
We've had one side of our fence built – 70 metres of 'post and rail' style wood fence. Next we have to sort out another 70 – 100 metres of fence along the other side of the property!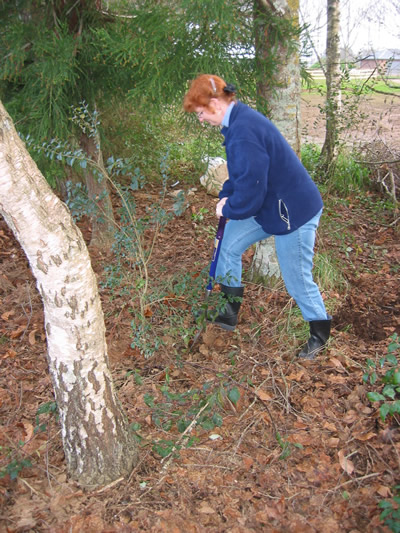 Transplanting saplings – Note the new gumboots!!!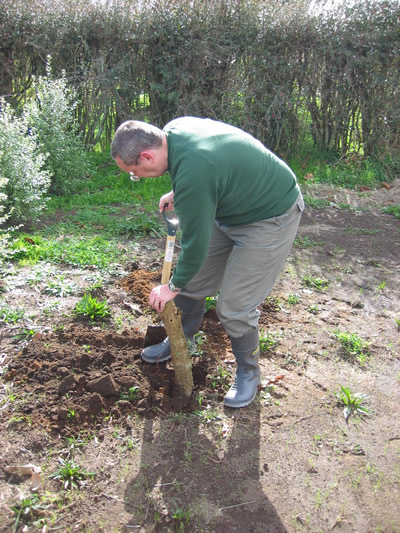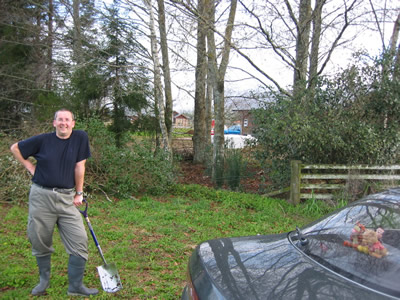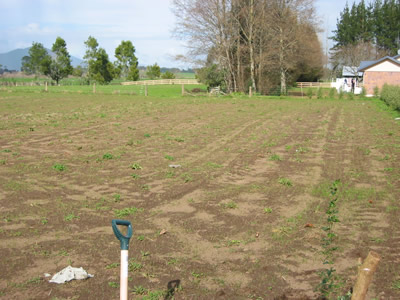 Can you see the new fence at the bottom of the garden (yes that is it in the distance)
News from Home
Ann's Mum and Dad went to the Butterfly and Wildlife Park on Sunday 24th July at Long Sutton. It was a lovely day out and as you can see Mirale got to hold a big owl called "Georgie" and a Barn Owl called "Peaches".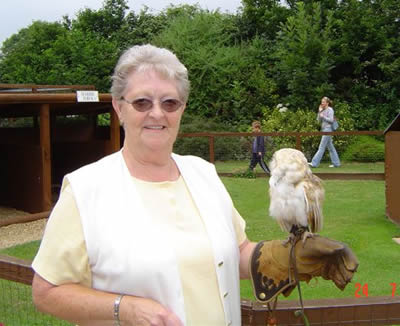 On their recent trip to the USA they had a great time with their youngest grandchildren just before they all moved back to Denver where they are now settling into their new home.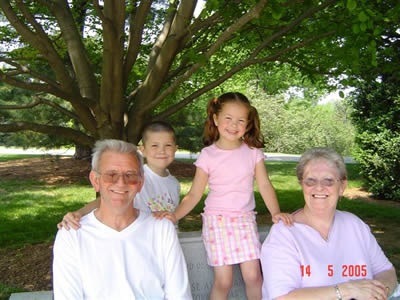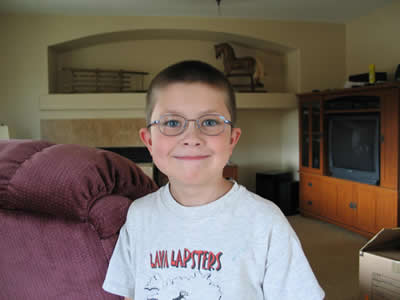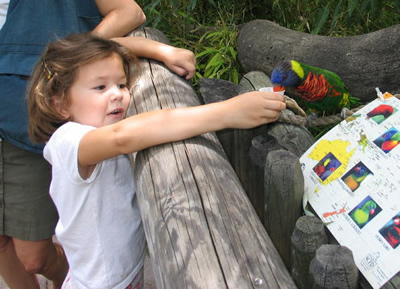 Ann's nephew, Mark, has now graduated from University and is about to start work in Cardiff. He's also just achieved his 'black ends' in Taekwondo and will take his black belt grading next March. Once he's got his black belt he'll be able to do his fight choreography. By that time Peter Jackson should be on his next major project and perhaps he'll need a young, hard working fight choreographer!!
Ann's god-children, Catherine and David, both got excellent grades in their exams for University and Peter's niece Claire also got distinctions in her SATS – we have such clever children in our families!!!!!
Peter's brother Dave was not so clever when he painted the shed earlier this month. He managed to paint the slabs around the shed too – needless to say Ann (the other Ann Mudie) was not amused!!