Kia Ora
The website for Ann's School is nearing completion. You will be able to find it at www.patave.school.net.nz in the near future.
One of Peter's colleagues, Greig, turned 31 in June, so just to prove that he can still hack it, he went for an early morning swim to help a friend celebrate her 26th birthday. This involved getting up at 4am, driving to Raglan (about 45 minutes away), and going for a swim in the sea before driving back to do a full day's work.
Ann had a night out with the girls from school so the following week Peter went on a pub crawl with his work mates to celebrate Greig's 31st birthday!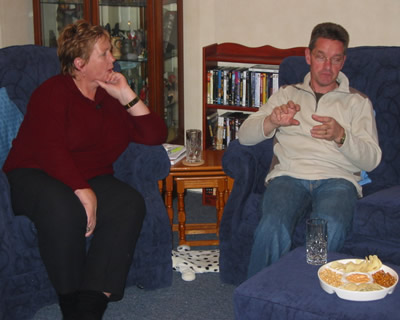 Chris (from school) and Gary came round for a meal. They've been here for quite a few years, emigrating from 'up north' (past Birmingham anyway)!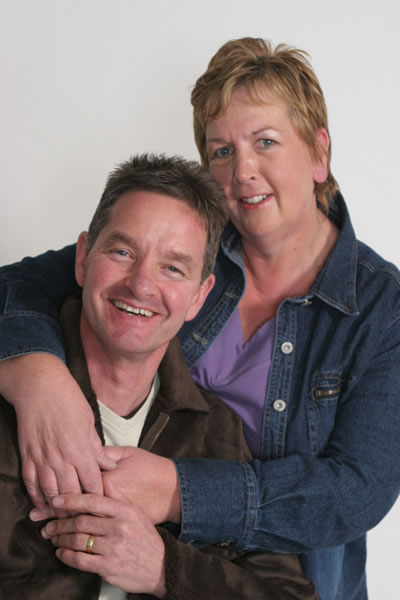 They've been auditioning for parts in TV and film and gave us copies of a couple of their portfolio photos. When they're famous in Hollywood we want to make sure they remember us poor nobodies!!!!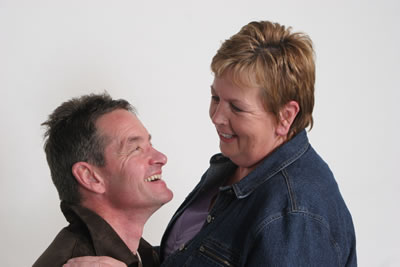 We went on a visit to Hamilton Zoo before Ann took her students there. Despite it being smaller than some of the UK zoos we had a enjoyable couple of hours walking round. One of the main entertainments was watching a couple of spider monkeys tormenting a large goose-like bird.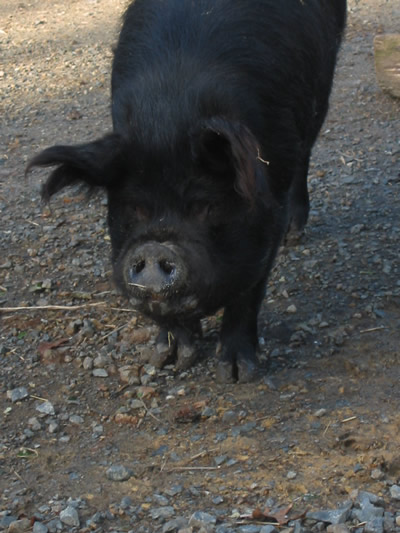 Kune Kune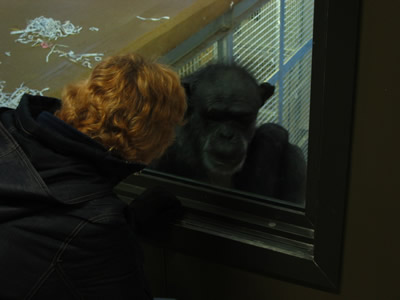 Ann saying 'hello' to one of the Chimps (Ann's the one on the left).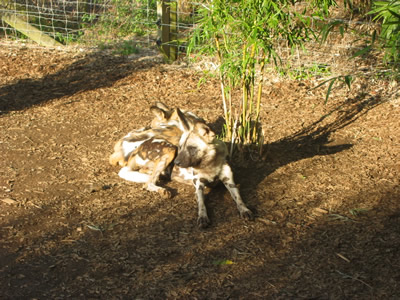 African Painted Hunting Dogs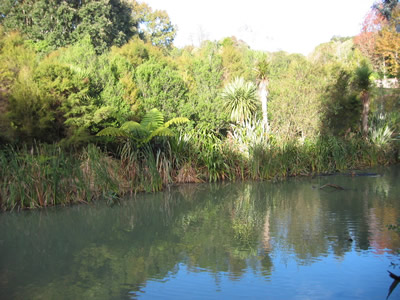 The wetland area

The land is ours – yippee!!! The mortgage is also ours – boo!!!!
We had our house plans, complete with adaptations, shown to us which we liked, so the architect is now drawing up the detailed drawings for the builders. We are now going to spend our week-ends looking around and choosing colours and styles of materials such as bricks, doors, window frames, fascia, skirting, garage doors, drains and roof tiles. Hopefully the detailed drawing will be completed in the next month then our lawyers will go over everything before the actual building can begin.
We had a weekend Bonsai Workshop with Clinton Nesci from Australia. It was a very good two days of working on trees at the local pottery studio. We even managed to fit in supper on Saturday evening whilst the rugby match was on at the nearby Waikato Stadium. You can see pictures from the workshop on the Bonsai pages.
The visit of the British and Irish Lions to Hamilton for a match with the Maori All Blacks was very much in the news. Although we kept an eye out we saw very few of the 'Barmy Army' in town and the defeat of the Lions by the Maori All Blacks was celebrated intensely by the locals.
UK Estate agents please note! Our estate agent phoned Peter to see if he was at work as she had a little something for us. The food and drink hamper was a nice surprise. It is common practise down here – better than the UK. You can't see it in the photo but there is a bottle of wine and two glasses in the hamper as well as all the food!
Fieldays, the national agricultural show is held at the Mystery Creek showground just south of Hamilton. During the week the weather was warm and dry, then come Saturday when we could go – it p***ed it down. The show is very much like the show at Stoneleigh but with less livestock on display and much like the East of England Show on a smaller scale. It is apparently the largest agricultural show in the southern hemisphere. We were told to expect major delays when getting into and out of the carparks – and we were delayed for over 5 minutes! Peter bought a pair of loppers and a branch saw. Now he wants to spend time on the land looking at our trees and deciding which ones need a 'little' trimming!!! Peter also bought a pair of gumboots ready for the wet weather. Ann got some thermal socks for the cold and some home-made fudge – priorities eh!!!
As well as the usual displays of machinery there were competitions using chainsaws, tractors and large JCBs (Peter was itching to have a go with a chainsaw).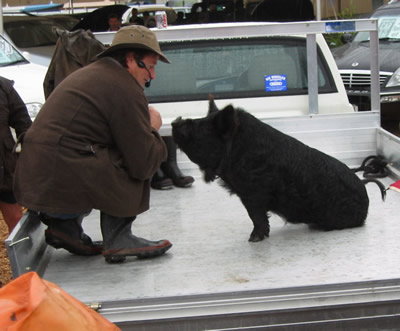 Don Rash – the performing West Coast 'Poodle' at Fieldays
Even though it is mid winter here, we see many cars without lights whilst going to and from work. They must be proper Kiwi drivers (it is often commented on how bad driving standards are over here).
Car drivers are not the only danger. Whilst using a carwash at a local BP petrol station one of the wheel wash brushes stuck out and damaged the front bumper of Peter's work's car. He spent nearly two hours there filling out paperwork to report the accident and find out how they were going to pay for the damage.